Innamorata Women's fragrances by Blumarine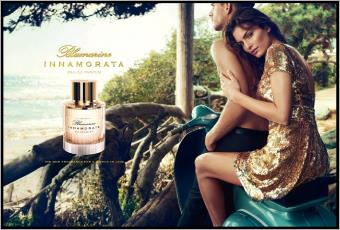 Innamorata Lovely Rose from Blumarine, a fresh and light perfume.
Women's perfumes don't have to be heavy and sweet, even when they contain notes of rose. Blufin offers evidence of this with its label Blumarine and betrays the lie of those claiming otherwise. The label, which has been designing elegant, sensual and exciting fashion for women since 1977, also creates women's perfumes which are sensual and sexy but simultaneously perfect for everyday use. This is reflected by the fact that Innamorata Lovely Rose is also available as a Body Wash and a Body Lotion. The top note of the Innamorata Lovely Rose perfume begins very fruitily. Bergamot, raspberry, lime, green apple and lemon open the dance. Floral notes follow onto the dance floor in the heart of the perfume with freesia, rose and gardenia. Amber, cedar and musk invite the wearer to the last dance in the base note. The fragrance does not dance a laborious waltz, but rather a lively foxtrot, and inspires with sensual components, which are not overwhelming, but can accompany you all day long on all occasions if you wish. Blumarine has proved that women's perfumes can be different.