Duftkerzen Room fragrances by Floris London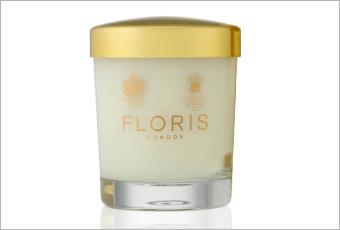 The elegant scented candles from the House of Floris London are a pleasant eye-catcher and are packaged in practical fireproof glasses to enable them to burn for several hours at a time. The candle collection is captivating due to its very light and open design, as the candles are produced in a light beige and the glass is semi-transparent. Adorned by a golden lid, the candle can also be re-covered, if necessary, in order to efficiently channel the fragrance for the next burning time.
Versatile and fragrant for your home
The scented candles act like room scents and ensure an atmospheric fragrance in the room, with the candle being able to be repositioned at will, in order to divide the intensity or scent other rooms. As with any perfume by Floris London, the candles are impressive due to their clear and uniquely defined fragrance. Possible sorts are, for example, sandalwood & patchouli, cinnamon & tangerine or grapefruit & rosemary. The candles have a long burning time and spread the fragrance equally throughout the room. Longer or shorter burning times allow you to adjust the fragrance intensity to suit your own preference.