Homme Men's fragrances by Ligne St Barth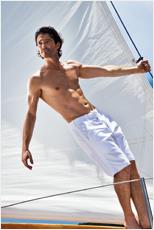 Ligne St Barth, a brand headquartered in the French Caribbean, originally garnered international attention for its high-quality care products and luxurious women's fragrances. Nowadays, men too can benefit from the fragrance artists, as the Homme range heralded the first time Ligne St Barth had brought men's fragrances to the market which are no less luxurious than their female counterparts. The perfume from the ranges comes in a round flaçon with a deep blue inscription. The long-lasting 100ml flaçon is suitable for use all year round and at the same time ensures that the beneficial essences are always fresh and well sealed in.
The magical men's fragrances from the Homme range
The perfume from the Ligne St Barth brand uses lime and lavender in its top notes, where this duo is surrounded in rosemary. In the core notes, carefully selected orange blossoms meet aniseed, whilst the fragrance's base notes rely solely on hay, moss and ferns. The core of this creation comes across therefore as extremely natural and pure, whilst the top and core notes master a fine balancing act between fresh effectiveness and plenty of fruity fragrance notes. This is the healthy means that makes the fragrance a wonderful all-rounder as well.
Further products from the Homme range
As well as perfume, the range will also captivate with other products which use the same men's fragrances. The Facial Tonic ensures well maintained and perfectly cleansed skin, whilst the Shower Gel takes over cleansing of your body. It removes sweat, dirt and other residue in a gentle manner, whilst a heavenly smelling mist arises in the shower. The Body Lotion is perfect for all men who want to give their skin plenty of moisture after showering or bathing. It soaks in quickly and therefore moisturises all layers of the skin. The Luxury Soap acts to cleanse real men's hands.