Priori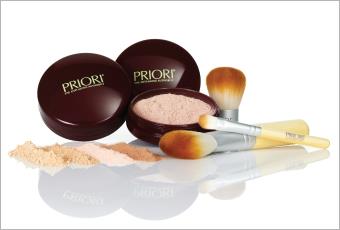 The story of the international brand Priori goes back to the year 1999 when two chemists, Joe Lewis and Joe DiNardo, founded a research institute for cosmetics companies and the pharmaceutical industry. Over the years, a variety of tests produced high-quality ingredients which are used in make-up or care products and halt natural skin ageing. Based on these experiences, Priori brought out its first luxurious product range in 2004 which is still highly valued by women even today. Over the years, other care range and make-up products have been added with the focus on anti-ageing.
Experience healthy and beautiful skin into old age with Prior
Our Online Shop makes use of the famous brand manufacturer's experience and offers individual products and sets which women can use to feel good in their skin. Luxurious and composed of exquisite ingredients, you can apply perfect make-up for any occasion and at the same time tackle the demands of ageing skin. Foundation and similar brand items which can be applied directly to female skin ensure a unique skin feeling with their caring notes and highlight your natural beauty. All brand items fro Priori's large selection can of course be purchased online at particularly attractive prices.