Tirrenico by Profumi del Forte
Unisex fragrances like
Tirrenico
are extremely modern in their sophisticated, low-k…
Learn more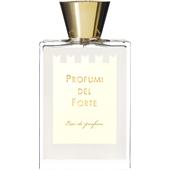 Tirrenico Unisex fragrances by Profumi del Forte
Unisex fragrances like Tirrenico are extremely modern in their sophisticated, low-key elegance. The composition from the House of Profumi del Forte impresses with a harmonious interaction of aquatic-fresh and aromatic-spicy notes. They remind of a walk along the shore by blending various nuances into a sensual scent experience: a pinch of sea salt and seaweed, the heady aromas of fresh herbs such as fennel and basil as well as accents of warm woods. Bitter orange and jasmine draw a floral-fruity component from the wild gardens of the interior. The fragrance is rounded by a sensuous musk note and dry oak moss.
A homage to a Mediterranean joie de vivre
Unisex fragrances from Profumi del Forte embody a modern attitude to life that isn't limited to the towns of the Italian riviera: Refreshing and soothing without being overpowering, the Tirrenico perfume is suitable for both men and women. The perfume adapts to the aura of the wearer like a second skin and conveys clarity and authenticity. With its aquatic and gentle, aromatic notes, the fragrance is perfect for hot days and warm summer nights. Neither loud nor faint, neither overpowering nor timid, neither distinctly feminine or masculine: Unisex fragrances enchant through a balanced interplay between the most varied of components, achieving a harmony rather than tension.