T. LeClerc Kosmetik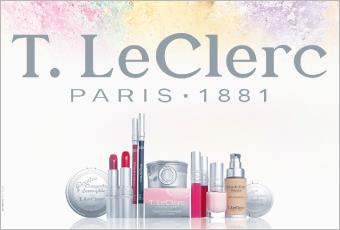 In 1881 the cosmetic brand T. LeClerc was founded in Paris, which today is among the leading players in the industry, not only through their huge success. High quality make-up for eyes, nails and complexion as well as brushes and other accessories, which are always being released in new editions. Many items reflect a luxurious note and the combination of high quality ingredients, which have been treasured by women in Germany for many decades, and which are also available at attractive prices.
Buy the right make-up for every occasion with T. LeClerc
T. LeClerc presents itself as an elegant and cosmopolitan Parisian brand, offering make-up and brushes which are perfect everyday companions. Whether as an aesthetic provision for the office or the perfect complement to your outfit for the next party - the choice of cosmetics by this manufacturer is huge and comes in different editions as a set with make-up brushes etc. With an order from our selection online you will receive exquisite quality while saving money.