Queens by Bond No. 9
Bond No. 9 Queens is as
as the New York district after… Learn more!
Queens Women's fragrances by Bond No. 9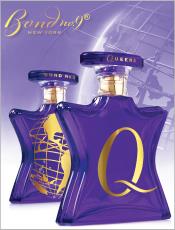 Bond No. 9 Queens is as as the New York district after which it was named. The perfume contains the most diverse ingredients – a multi-faceted and cosmopolitan fragrance. A totally unexpected staging of tuberose as the main component of these women's fragrances is combined with zesty bergamot and nuances of expressive cardamom and hidden notes of blackberry. Tea-evoking osmanthus blossoms and velvety soft champaca blooms lend this unique fragrance an air of smoothness and elegance. The fragrance is rounded off with a culmination of sandalwood, amber, musk and benzoin resin. Queens by Bond No. 9 comes in a vibrant blue bottle, with an image of the world-famous geodesic dome from the World Expo engraved in gold on the front and a bold "Q" adorning the reverse.
Women's fragrances with New York flair
Bond No. 9 is an avant-garde perfumery founded in New York city centre by French perfumer Laurice Rahmé, and specialises in the creation of women's fragrances dedicated to the streets and districts of the metropolis. In so doing, the label has a dual mission: to create a unique fragrance for each district of New York and to restore artistry to perfumery. Each of the label's fragrances represents a specific area of Uptown, Midtown or Downtown, or conveys an image of the city as a whole. The company is now a global brand sold in 35 countries. When crafting its perfumes, the manufacturer places a special focus on luxury. Its fragrances range between 18 and 22 percent in concentration. Each perfume, as with Queens, is one of a kind, thrilling and headstrong.