Shower sponges
ErborianSpongesKonjak Sponge with Green TeaSanfter Peeling-Schwamm
BP: € 16.95* / 1 pcs.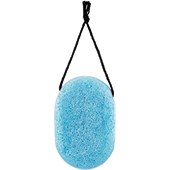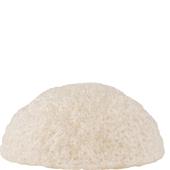 ErborianSpongesKonjak Sponge NaturalSanfter Peeling-Schwamm
BP: € 16.95* / 1 pcs.
5/5 AggregateRating
Shower sponges: Wellness at home
Shower sponges are a great wellness product for the home shower or bathtub because they have many positive effects:
With these, shower gel or soap lathers well and can therefore be distributed better over the body.
The slightly rough outer surface of the shower sponge has an exfoliating effect on the skin, which removes dead skin cells. This cleanses the skin thoroughly and prevents blemishes.
By massaging the skin with the sponge, the circulation is stimulated, which can lead to a firmer appearance in the long term. In addition, the skin is prepared for absorbing care products better.
There areshower sponges made from artificial fibres as well as from high-quality natural materials, including:
Loofah: The massage sponges consist of the inside of the loofah gourd.
Konjac: The konjac sponge is extracted from the root of the devil's tongue plant.
Natural sponges: They come from the sea, resemble coral and grow on the sea floor – predominantly in the Mediterranean.
Shower sponges made of artificial fibres: What are their benefits?
An exfoliating sponge made from artificial fibres is often composed of looped fabric or microfibre. They mostly come in luminous colours and can create a beautiful accent in your bathroom. Some have two different surfaces and can therefore fulfil two different purposes, such as being suitable for use on the face and on the body. There are also artificial fibre versions with a long handle that enable you to reach your back easily, for example.
Exfoliating sponges for smooth and soft skin
As with shower sponges, soaps and shower gels can produce a good lather, so you need less of them. This saves money in the long term and is more sustainable. In addition, the effect is intensified through the foaming and exfoliating, so your skin can absorb the moisturising ingredients better. A mild shower gel protects the skin's natural barrier.
Shower sponges: What to watch out for when using them
Shower sponges can become germ traps if you do not clean them properly. In the end, the dead skin cells collect in them and germs can form and multiply through the damp and warm climate in the bathroom or in the shower.
You should therefore wash out your massage sponge thoroughly after every use, thus rinsing off the remaining skin from the sponge. Otherwise, you are spreading germs on your body every time you use the sponge, which can lead to skin irritation. You should also take care to avoid your intimate area with the sponge or use a different sponge from the one with which you wash the rest of your body. This also helps to protect against germs.
How often do you use a new shower sponge?
You should change your shower sponge every three months on average. Even if it still looks good, there is a high risk that it will become a hive of bacteria after regular use. If it starts to smell bad even before this time is up, you should dispose of it immediately and buy a new shower sponge.
The right shower sponge for you: at parfumdreams
Get the spa feeling at home and pamper your skin with a shower sponge. In this way, a simple shower becomes a wellness experience. Discover different shower sponges at parfumdreams that leave your skin super clean and soft.