Tanning mitt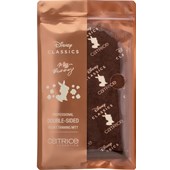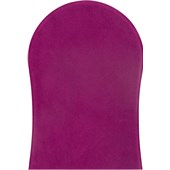 Douglas CollectionSelf-tanners Tan Applicator Mitt
€ 5.48
/ 1 pcs.
BP: € 5.48* / 1 pcs.
5/5 AggregateRating
Tanning mitt: Why they are so useful
You don't have to go out in the sun if you want to give your skin a sun-kissed touch. Fake tan does the trick and gives you a summery glow, all without harmful UV rays. A tanning glove stops the fake tan from looking streaky. You can apply self-tanner seamlessly using a tanning glove and it also protects the palm of your hands from turning an orange colour.
Tanning mitts stop your hands from coming into contact with the tanning liquid. After all, your hands are the part of your body that comes into contact with the self-tanner during the entire application process, which means that this is where the colour application is most intense.
A fake tan mitt is also a sustainable product. You can use it over and over and wash it again and again. It also helps you get a better tanning result, which should ultimately be the main reason for buying it. The aim is to achieve a softly tanned appearance that is streak-free, even and natural-looking, without making some areas darker or lighter than others.
Fake tan mitt: What to keep in mind when using it
Make sure you prepare your skin so that the effect of the fake tan mitt is fully visible on your skin:
First, exfoliate to remove all excess skin cells. You can also use an exfoliating glove to do this.
Then, shave your skin. Preferably do this one day before applying the fake tan so that the skin can recover from being shaved. Fake tan is easier to apply to smooth skin and it leads to a better result.
After exfoliating and shaving, make sure to moisturise your skin to prepare it properly for applying the self-tanner.
How to apply self-tanner with a tanning glove
Once you have prepared your skin, you can apply your self-tanner to the desired areas of your body and gently massage it in with the tanning glove. The best way to do this is as follows:
Apply the fake tan directly onto the glove.
Start apply the cream to your legs. Do your feet later.
Make sure to use circular motions so that you can cover every centimetre of skin. This means you can be sure that every area of skin is evenly covered with the fake tan.
Finally, only spread what's left of the fake tan on your glove over your hands and feet.
Wait at least 15 minutes after application before putting your clothes back on. It's best to put on clothes that you don't mind getting dirty first.
Without the tanning glove, you would usually have to wash and scrub your fingers for a long time after applying the fake tan, and even then you would not be able to completely avoid your hands from going orange, but with the glove you only have to take it off and your hands can touch everything again without you having to worry about staining anything. Fake tan gloves can be easily washed and used over and over again.
Buy fake tan mitts at parfumdreams
If you want to use a fake tan, then tanning gloves are a good investment. At parfumdreams you'll find a wide selection of gloves and you can even buy the perfect self-tanner to go with them.