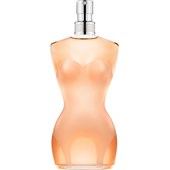 Jean Paul GaultierClassique Eau de Toilette Spray
€ 68.06
/ 50 ml
BP: € 1,361.20* / 1000 ml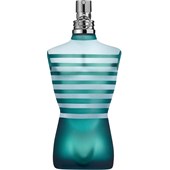 Jean Paul GaultierLe Mâle Eau de Toilette Spray
€ 20.88
/ 15 ml
BP: € 1,392.00* / 1000 ml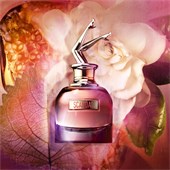 Jean Paul GaultierScandal Eau de Parfum Spray
€ 45.95
/ 30 ml
BP: € 1,531.67* / 1000 ml
Skin care and Fragrances of Jean Paul Gaultier
For Jean Paul Gaultier, a perfume is like a second skin. It reflects the personality, is devoted and…
Learn more
Jean Paul Gaultier Skin care and Fragrances
For Jean Paul Gaultier, a perfume is like a second skin. It reflects the personality, is devoted and sensual, and leaves behind an unforgettable note. Le Male, Kokorico, Le Beau Male, Fleur du Male, Le Male Terrible, Classique, Ma Dame and Gaultier² are all seductive fragrances full of character.
Did you know?
Jean Paul Gaultier perfume
Unconventional, unusual, eccentric – this is how the French fashion designer and founder of the fashion house named after him, Jean Paul Gaultier, loves it. From clothing to perfume – Jean Paul Gaultier launched his first women's perfume, Jean Paul Gaultier "Classique," in 1993, which was followed by the first men's fragrance, "Le Male", in 1995. It is not just his fashions but also his extraordinary perfume creations that put Gaultier in the line-up of big designers.
A perfume like a second skin – Jean Paul Gaultier fragrances for men and women
The fashion designer, who was born near Paris in 1952, develops distinctive fragrances that are characterised by extravagance and always have a touch of seduction and sensuality.
"Le Male"
is the classic men's fragrance from Jean Paul Gaultier. This perfume makes an impression with a unique, original combination of power and sensuality. "Le Male" is characterised by a fragrance full of energy and vigour. With
"Classique",
Jean Paul Gaultier created the women's equivalent of "Le Male". This classic fragrance has a bottle shaped like a curvaceous, feminine silhouette and embodies the female art of seduction.
Be enchanted by Jean Paul Gaultier perfumes: Jean Paul Gaultier's
Ma Dame
will also delight you with a floral, fresh, and soft fragrance – orange zest, fresh rose, and a splash of grenadine. This is what the modern woman wants. A particular highlight of Jean Paul Gaultier's world of fragrance is the
unisex fragrance Gaultier²
, which combines the masculine with the feminine. You can take part in this: an attractive Eau de Parfum for him and her. The bottles are furnished with magnets and, in this way, always fit back together – and so don't come apart quickly.
Fleur du Male
is another example of a sensual perfume for elegant men.
Discover the unconventional fragrance compositions with which the French designer reached the top league of the fragrance world – now at parfumdreams.de!