Cosmetic mirror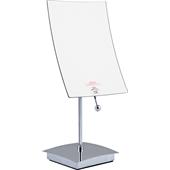 ERBECosmetic mirror Make-up mirror, 5 x, square
€ 32.10
/ 1 pcs.
BP: € 32.10* / 1 pcs.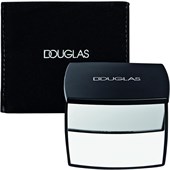 Douglas CollectionAccessories Velvet Pocket Mirror
€ 6.22
/ 1 pcs.
BP: € 6.22* / 1 pcs.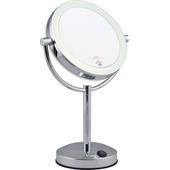 ERBECosmetic mirrorHighlight 2LED Cosmetic Mirror
€ 63.42
/ 1 pcs.
BP: € 63.42* / 1 pcs.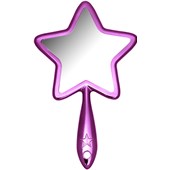 Jeffree Star CosmeticsMirrors Hand Mirror
€ 19.57
/ 1 pcs.
BP: € 19.57* / 1 pcs.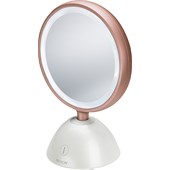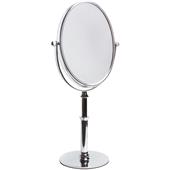 ERBECosmetic mirror Cosmetic mirror - 7x
€ 23.45
/ 1 pcs.
BP: € 23.45* / 1 pcs.
4,5/5 AggregateRating
Make-up mirror– the must-have beauty helper for your bathroom
You place importance on perfectly plucked eyebrows, flawless make-up and precisely drawn eyeliner? Then you should definitely treat yourself to a suitable make-up mirror for your bathroom. It makes your daily beauty routine more comfortable and gives you an unrestricted view of your face. Say goodbye to awkward positions trying to get a look at yourself in a standard mirror. This mirror was designed to make your life easier.
Hand mirrors: small, practical helpers for your handbag so that you can quickly check your make-up from time to time.
Mirrors with stands: stable and flexible thanks to the stand. Set up your make-up mirror where you need it and keep both of your hands free.
Wall mirror: secure it the the wall permanently with screws or temporarily with suction cups. A practical solution if you don't have any counter space available.
Mirrors with magnification: with up to 10x magnification, you will be able to mascara even the smallest eyelash.
Illuminated make-up mirrors: glare-free lighting makes your daily routine a lot easier.
Make-up mirrors are as versatile and flexible as you need them to be. There is something for every budget and they provide valuable assistance for both your skincare routine and when putting on make-up. The selection of models available is almost endless. You must be asking yourself how to find the right make-up mirror for you? That's easy – just look out for a few aspects.
A step-by-step guide to finding the perfect make-up mirror for you
Firstly: Where do you want to use the make-up mirror? While fixed wall installation is a good choice for the bathroom, it would be advisable to get a magnification mirror with a stand.for the living room or kitchen. Swivelling models have two sides: one side is a normal mirror, and the other is magnified. This is very practical, for instance if you want to check your make-up quickly in the hallway before leaving the house
Secondly: How is the lighting? For your daily cleansing routine, an illuminated make-up mirror is a nice bonus, but for an elaborate make-up session it is a must. It lets you contour your face with ease and add highlights that still look natural outside the bathroom.
Thirdly: The shape and design or your make-up mirror remain a matter of personal taste. Round or square? Simple or sensual? You can choose anything that you like. Do you ask yourself what else a make-up mirror can do for you?
Simple or extravagant: your make-up mirror as a home accessory
Thanks to their fresh, stylish designs, the make-up mirrors available today are more than just practical items. Some magnification mirrors have high-tech interiors, while on the outside they appear quite simple. Other models stand out with sensual, curved contours. Simple designs can be integrated seamlessly into the room without disrupting the overall look.
An illuminated make-up mirror is not just a practical helper. It can also enhance the room itself and provide atmospheric lighting. The important thing here is to choose the design to suit the rest of your interior style. Do you already own a soap dispenser made of shiny, silvery material? Then a matching make-up mirror in the same finish would look very good alongside it.
Discover your new make-up mirror at parfumdreams now
Whether round or square, with light or with magnification: you can buy your new make-up mirror quickly and easily online in our shop. Get your eyebrows into shape, put on your eyeliner and dab some colour onto your cheeks. Your new beauty helper is just waiting to greet you every morning.