After sun for face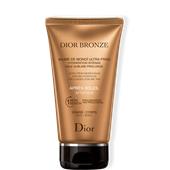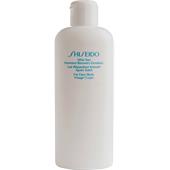 ShiseidoAfter Sun After Sun Intensive Recovery Emulsion
BP: € 186.33* / 1000 ml
5/5 AggregateRating
After sun: Fast help for redness and sunburn
Your forehead feels tight, your nose and cheeks are burning - if you do not protect yourself adequately from the sun and have gone slightly red or even become sunburnt, you can use an after sun lotion for the face (also called après sun) to counteract the effects.
But even if your sun protection was adequate, the skin on the face is often dry and tight after a long day outside. Ultimately, sun dehydrates the skin and it loses moisture. A rich after sun lotion for the face is just what you need, especially on holiday after contact with salt water or sand. Water loss from the skin can be reduced by after sun products for the face, as studies have proved.
What distinguishes after sun creams from traditional face cream?
After sun products are tailored especially to the skin's needs after sunbathing. They contain cooling and moisturising ingredients, which can alleviate redness and irritation, and include:
aloe vera
panthenol
allantoin
menthol
They provide especially protective nourishment, make the skin feel fresh and have an anti-inflammatory effect. Thanks to the antioxidants contained in after sun face cream, skin cells are also stimulated to regenerate themselves.
Before using an après sun lotion on the face, you should wash your face thoroughly. Sweat, sand and sun cream must be removed, so that you can cool your skin down and care for it effectively – otherwise, the hydrating effect will be lost. After sun absorbs quickly and delivers reliable first-aid after too much sun.
With an after sun product, reddened skin heals quicker than with a traditional day cream. Especially with very oily creams, there is a risk that your pores will be blocked, leading to reddening, spots and irritation. The more fluid, light consistency of after sun lotion is perfectly suited to lying gently on your skin, absorbing quickly and delivering valuable active ingredients to the skin. Its anti-inflammatory, cooling effects ensure that sunburn better subsides and is less painful. Nourishing ingredients like aloe vera or calendula soothe, regenerate and refresh the skin.
What after sun products are available?
There is a wide selection of after sun products for the face. After sun lotion for the face, after sun serum and cooling après sun spray are the first choice after too much sun. As the skin on the face is especially demanding, you should also give it extra care.
With after sun cream, you should make sure that it does not contain any perfume or fragrance because this can be an extra irritant to affected skin. Withafter sun products for the face, perfumes are fundamentally critical, as these can get into the eyes quickly because of the fluid consistency. If the skin is very red and the entire face is burning and feels tight, an after sun mask can also help to cool it down and provide lots of moisture.
If the skin is badly burnt, with blisters possibly having formed, an après sun product does not help. A special burn ointment or a visit to the doctor is advised in this instance.
How is the after sun lotion used?
After each sunbathing session or extended period spent in the sun, you should use after sun. Apply generously to the face and also don't forget the parts of the body that benefit from après sun cream for the face:
décolleté
neck
nape of neck
The skin needs around twelve hours to regenerate. Therefore: the earlier you apply the cream, the quicker your skin will feel supple again and adequately hydrated.