Microneedle roller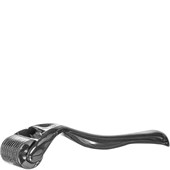 BiotulinFacial care Micro Skin Beauty Roller
BP: € 11.47* / 1 pcs.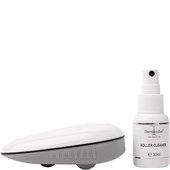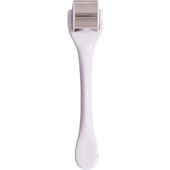 5/5 AggregateRating
Micro-needle rollers for smooth and resilient skin
Micro-needling is a popular method developed originally for clinical use and is also known as collagen induction therapy. The micro-needle roller comprises a roller with tiny needles attached to a long handpiece.
The little roller is rolled over the skin to stimulate cell renewal and collagen formation. The needles make tiny punctures in the skin. The anti-ageing process is boosted by the natural healing process.
Another advantage of this method is that care products and serums can penetrate deeper into the skin through the microscopic puncture wounds and thus have a longer lasting effect. Circulation is also stimulated, thus helping weak and defective skin cells to regenerate and grow.
Micro-needle rollers for home use
In a professional dermatological practice, needles measuring up to 3 mm long are used. This kind of length is too dangerous for untrained hands and so the needles on a home micro-needle roller are shorter but nevertheless still very effective.
Micro-needling within your own four walls – with the right micro-needle rollers, you can also enjoy this treatment at home. With the help of a needle roller and corresponding micro-needles (approx. 0.2 mm long), you can make your skin look rosier and more awake.
The benefits of micro-needling with a micro-needle roller
Clear and radiant complexion thanks to the formation of new collagen
Fewer blemishes and smaller pores
Better circulation from rolling over the skin
Cell renewal is promoted
In order to allow sufficient time for your skin to regenerate, we recommend waiting at least two days before using the micro-needle roller again.
Micro-needling after-care: Support from moisturising creams
Before using a micro-needle roller you should gently cleanse and then disinfect your face. This will prevent inflammation. An oily, moisturising serum will make the roller easier to use.
After micro-needling, the skin will need to be cooled. You can use soothing and cooling creams and masks to help your skin regenerate, while at the same time supplying it with lots of useful active ingredients.
You will find all kinds of cooling masks and soothing creams containing ingredients such as aloe vera and evening primrose oil at parfumdreams.
Micro-needling patch as an alternative to a micro-needle roller
If you're not a fan of the tiny micro-needles, why not try micro-needle patches instead. Needle patches are small pads with self-dissolving micro-needles. These needles transport the active ingredients deep into the skin and ensure a quick result within 20 minutes. Depending on the active ingredient and the application area, these micro-needle patches can also be used overnight and will release their full effect while you're getting your beauty sleep.
Buy micro-needle rollers and micro-needle patches at great prices online
At parfumdreams, you will find an exclusive selection of micro-needling products that will help make your skin appear rosier and more youthful. The right micro-needle rollers and micro-needle patches will leave your skin looking radiant. Whether you're after starter kits, individual rollers or the right care products to use after micro-needling, parfumdreams has all your favourites.