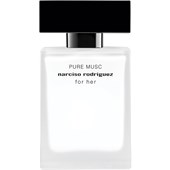 Narciso Rodriguezfor herPure MuscEau de Parfum Spray
€ 49.95
/ 30 ml
BP: € 1,665.00* / 1000 ml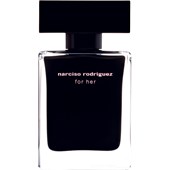 Narciso Rodriguezfor her Eau de Toilette Spray
€ 41.95
/ 30 ml
BP: € 1,398.33* / 1000 ml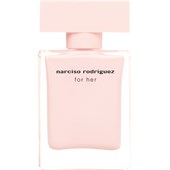 Narciso Rodriguezfor her Eau de Parfum Spray
€ 41.95
/ 30 ml
BP: € 1,398.33* / 1000 ml
Fragrances of Narciso Rodriguez
A New York-based designer of Cuban heritage. A unique style, shaped by three influences: American, E…
Learn more
Narciso Rodriguez Fragrances
A New York-based designer of Cuban heritage. A unique style, shaped by three influences: American, European and Latin American. A completely personal vision of timeless elegance, providing classicism with new modernity. Ideals are at the heart of his fashion, and this is reflected in each individual perfume. "I like to see the classic in modern art," says Narciso Rodriguez.
Did you know?
Perfume from Narciso Rodriguez delights, just like his fashion
The American designer Narciso Rodriguez is the best proof that you should never give up. After initially working for numerous other labels including Calvin Klein, Donna Karan, and Cerruti, the designer, born in 1961, wanted to create something of his own and and went through a long hard time. But he made his international breakthrough with Carolyn Bessete-Kennedy's wedding gown. Even today, Narciso Rodriguez still only works with others when he feels like it. For example, Narciso Rodriguez for Her was created in collaboration with the luxury Japanese label Shiseido. It is a gift to femininity, just like the 2009 women's fragrance Narciso Rodriguez Essence, that strikes dreamy romantic chords with its silvery elegance and gentle aromas. This consistency, the wish for his own designs to be celebrated and his own ideas to be realised, earned him the honour of designing a dress for Michelle Obama. Narciso Rodriguez for Her, with aromas of peach and roses with amber and musk as well as sandalwood and patchouli, was launched in 2003 as the designer's debut and was an absolute milestone in the world of fragrance. The perfume was and is so successful that a Limited Edition was launched in 2013. So, just like Narciso Rodriguez Essence, Narciso Rodriguez for Her celebrates unbelievable success, with just a few ingredients, all over the world - from the First Lady to you.