Callus removers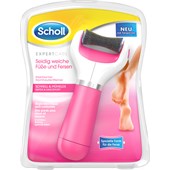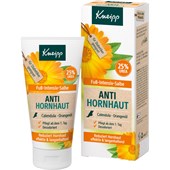 KneippFoot Care Intensive Foot Ointment "Anti-Hornhaut" Anti-callus
BP: € 110.40* / 1000 ml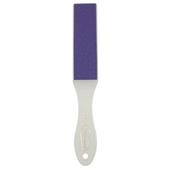 Hans KniebesCallused skin instruments Professional Callus Rasp
BP: € 19.95* / 1 pcs.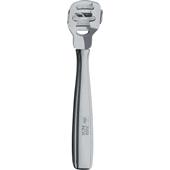 ERBEPedicure Corn plane, rust-proof, 14.4 cm
BP: € 21.87* / 1 pcs.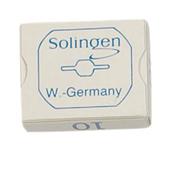 Hans KniebesCallused skin instruments Callus Scraper Blades
€ 3.95
/ 10 pcs.
BP: € 0.40* / 1 pcs.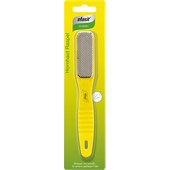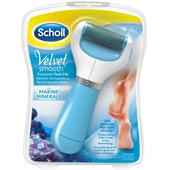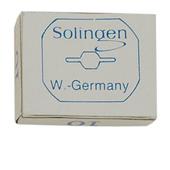 Hans KniebesPedicure Callus Scraper Blades
BP: € 0.40* / 1 pcs.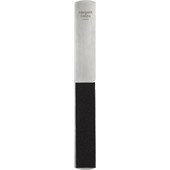 5/5 AggregateRating
Callus removers – for beautifully groomed feet
People who suffer from cracked and hard skin often hide their feet in enclosed trainers. In summer it is wonderful to walk around barefoot or stroll along the beach in flip flops or comfortable sandals. Beautiful feet can be conjured up with just a few tools. With a callus removers, you can deal with stubborn cracks on the heels, toes and other areas of the feet. Find out how!
Footcare with a callus removers is practical and incredibly easy
Electric hard skin removers especially are bang on trend. They relieve us of nearly all the work and are easy to use. Simply choose a product from the many hard skin removers available and free your feet from areas of dry skin. The different care steps can be carried out very easily:
Shop hard skin removers: along with pumice stones and hard skin files there are also electric hard skin removers. Simply select the product that seems to make most sense for your requirements. Finally, follow the user instructions so you can use the care product properly and successfully.
Soften hard skin with a footbath: to be able to remove unpleasant hard skin quickly and efficiently, we recommend that you use a foot soak. The warm water softens the skin on the foot. It is best to soak the feet for 10 to 20 minutes. This relaxes the feet and prepares them for the rest of the skincare routine.
Dry the feet: After the bath, you can of course use a file or pumice stone on the wet skin. On the other hand, if you are using an electric hard skin remover, it is advisable to quickly dry off the feet . Finally, use the device on the affected areas of the feet. Exercise caution and care when doing this. There is no need to overstress the feet or feel that you have to experience pain. For particularly stubborn hard skin, it is best to repeat the footcare routine on the following days.
Finish off the footcare with a foot cream : Once the hard skin treatment is done, the last traces of dead skin should be rinsed off with running warm water. To finish, treat the skin on the feet with a gentle massage using a rich cream. This gives the skin all the important nutrients it needs to recover from the footcare treatment.
Blisters, rubbing and cracks as well as dry skin can lead to an increased formation of hard skin. If the hard skin remains untreated, the skin will develop an unattractive appearance. Painful cracks can also form. But this does not have to happen if the feet are given lots of care at regular intervals.
A good footcare routine is ideal for preventing hard skin
Even if hard skin is an eyesore for many, the skin should not be removed from the feet in one fell swoop. It is better to treat the feet carefully with a callus removers. Ideally, you should give your feet a little attention after every bath or shower. They will show their thanks with soft skin and a beautiful appearance.
Electric hard skin removers are especially popular right now. They can either be used plugged in or with batteries. The roller surface glides over the areas of rough skin and removes the affected skin cells. Both fine and coarse rollers are comfortable and can be adjusted to suit individual footcare requirements. It couldn't be easier to remove hard skin.
Shop hard skin removers for use at home at parfumdreams
It doesn't matter whether you want a classic pumice stone, a manual file or an electric hard skin remover: every product delivers silky soft feet. At parfumdreams you will also find a range of products that will take you to your desired goal. Let your feet show their best side and use callus removers. The result is not only surprising but also delivers elegant and smooth feet.