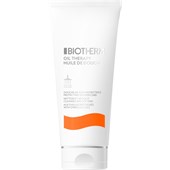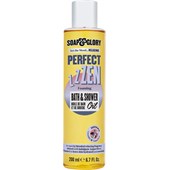 5/5 AggregateRating
Shower oil: moisturising, nourishing care for your skin
A shower oil is particularly suitable for dry, sensitive and irritated skin. It cleans just as well as a regular shower gel, however it has an intensely nourishing effect. The products contain moisturising properties and clean gently so that you can use them on a daily basis without any problems. They supply the skin with intense moisture and nourishing ingredients, meaning that you don't need to apply cream after your shower.
Who are shower oils suitable for?
Frequent showering can be damaging especially for sensitive skin as you're not only removing dirt but also sebum. This protects your skin from drying out and picking up pathogens. Shower oils gently clean and nourish your skin. They leave behind a thin film of oil on the surface of the skin, which prevents your skin from losing moisture. It also reduces itchiness and dead skin cells, which are associated with dry skin. After using the oil, your skin will feel soft and smooth.
Shower oils are not just suitable for dry, sensitive skin. If you shower very frequently, they clean more gently that conventional shower gels. They gently remove dead skin cells, sebum and bacteria, At the same time, the lipids in the oil have an intensely nourishing effect. As the oils don't dry out the skin and rarely cause irritation, they are suitable for almost any skin type.
Particularly if you're in a rush and don't have time to apply a cream, the moisturising properties will prevent your skin from feeling uncomfortably tight. Using a shower oil gives the skin more elasticity and leaves it feeling smoother. If you have oily skin, however, it would be better to use a conventional shower gel as the oils may put your skin under more stress.
What are the ingredients in shower oils?
Lots of manufacturers enrich shower oil for dry skin with bisabolol and panthenol. These ingredients have a moisturising and regenerating effect. Redness and small wounds heal more quickly. Shea butter (Karité) supplies the skin with intense moisture. It makes it soft as well as soothing and relieving itchiness. Small amounts of citric acid ensure a slightly acidic pH value.
How do you use shower oil?
The use of shower oil is no different to using classic shower gels. Squeeze a small amount into your hand and lather it gently with a little water. Apply the soft foam to damp skin. Massage it in for a couple of minutes so that the nourishing ingredients can be absorbed. Then rinse thoroughly with warm water. As the products are moisturising and intensely nourishing, you won't need to apply anything else afterwards. If you have very dry skin, you can use a moisturiser to hydrate your skin and protect it from environmental influences.