Chypre perfumes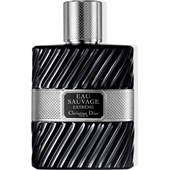 DIOREau SauvageEau Sauvage ExtremeEau de Toilette Spray Intense
BP: € 1,009.50* / 1000 ml
5/5 AggregateRating
Chypre perfume – where does the name come from?
Chypre is something really special, because it doesn't belong to fragrance notes in the true sense of the word. It is a combination of scents that were created by Francois Coty in 1917. The women's perfume known as Chypre fascinated so many people that it became the basis for a whole new family of fragrances.
Chypre is the French word for 'Cyprus'. The Mediterranean island is home to oak moss, a woody and earthy fragrance which is the basis of Chypre perfumes. It is the perfect base note with a deluge of fresh fragrances.
The original chypre perfume
The composition of chypre fragrances, which transformed the perfume industry, is famed to this day and has been modified several times:
Top note: bergamot, lemon, orange and orange blossom
Heart note: carnation, ylang ylang, rose, jasmine, lily, iris
Base note: oakmoss, incense, musk, civet oil, patchouli, styrax.
The well-rounded composition of chypre perfume opens in fresh citrus tones and gradually becomes more earthy as oakmoss and patchouli scents come to the fore. These create a mysterious freshness which engulfs the wearer in an irresistible aura.
Chypre perfume for women
These days there are so many new interpretations of the original chypre fragrance. The perfume is now moving in a new direction with floral chypre fragrances. These fragrances have a higher quantity of floral notes compared to the original perfume. Elegant roses, fresh lily of the valley, or fruity orange blossoms give this chypre women's perfume a modern twist. Floral chypre fragrances masterfully bring this women's classic up to date. With notes such as berry, peach or plum, the fragrance can also be worn by women who prefer a lighter scent.
Chypre fragrances for men
Although the original chypre perfume was created for women, today there are many chypre fragrances for men to choose from. Leather, woody and aromatic notes come to the fore in these fragrances. Notes of cedarwood, tobacco or herbs give chypre fragrance a very masculine tone, while staying true to the original creation.