Lip scrub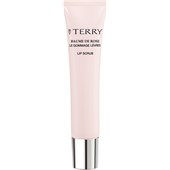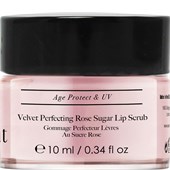 4,5/5 AggregateRating
Lip scrubs for soft, seductive lips
From sore, cracked lips to wonderfully smooth lips – lib scrubs are designed to gently exfoliate the thin layer of skin on your lips, removing excess skin without overstressing the skin. As a result, your lips will look smooth and even after using lip scrub. Lip scrubs are available in little tubs, tubes or as a stick. This means that they are perfect for your personal beauty routine at home or using on the go.
Who are lip scrubs designed for?
Lip scrubs are primarily suitable for those looking for even, velvety soft lips. External influences like sunlight, make-up or stress can dry out your lips. Not only does this mean that your lips do not look at their best, it can also result in an unpleasant feeling of tightness and cracked, painful areas. However, these problems can easily be prevented using a lip scrub. A lip scrub is recommended for everyone who:
Wants even, nourished lips
Suffers with dry lips
Wants to increase blood flow to the lips
Wants to prevent the first signs of lip wrinkles.
The skin on our lips is thin, which means that it is also very sensitive. This is the part of our body that contains the smallest amount of fat, which means that it is only able to self-hydrate to a limited extent. With a gentle care routine, you can help your lips to better cope with the strains of daily life.
Lip scrubs with sugar and nourishing ingredients
The manufacturers of natural skincare and lip care products also know that the skin on our lips is particularly sensitive. That's why renowned companies often use natural ingredients to make their lip scrubs. Most lip scrubs contain fine sugar crystals. Over many years, sugar has been shown to be an effective ingredient. Thanks to its texture, it reliably removes dead skin cells. With this in mind, it's no wonder that lip scrubs with sugar are so popular.
In addition to sugar, the crushed seeds of fruits or special microparticles are also used in lip scrubs. Plant-based oils or vitamins provide the lips with valuable nutrients and deliver the required hydration. Therefore, lip scrubs have two important functions: They remove dead skin cells and provide the lips will all of the important nutrients they need.
The correct way to use a lip scrub
Ideally, a lip scrub should be used once per week. The products can be easily applied using a finger, however, your hands should always be washed thoroughly before application, in order to ensure that your lips do not come into contact with bacteria or dirt. A small amount of lip scrub is more than enough for each application. The scrub is gently massaged into the skin and should start to take effect after just a short while. Excess product can be washed away with water. You can start applying your make-up directly after using the lip scrub.
Order lip scrubs online at parfumdreams
Regularly exfoliating your lips with lip scrub ensures soft, even lips with good blood flow. The shine in a healthy colour and provide the perfect base for beautiful make-up. The best part is that lip scrubs contain the perfect mix of high-quality ingredients and can be easily incorporated into your beauty routine. Anyone looking for an ideal product for velvety, seductive lips is sure to find what they are looking for from the extensive product range of parfumdreams.