Foot spray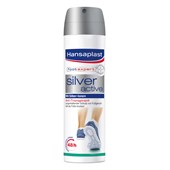 HansaplastFoot care Silver Active Foot Spray
BP: € 26.33* / 1000 ml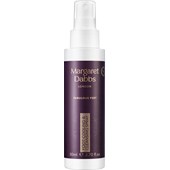 Margaret DabbsFoot care Foot Cooling + Cleansing Spray
€ 19.58
/ 80 ml
BP: € 244.75* / 1000 ml
5/5 AggregateRating
Foot spray – feet that are fresh and cared for at all times
Sweaty feet are not uncommon, especially in summer So you need to care for not just your shoes but also your feet. With a foot spray, you can have dry and fresh feet quickly and easily. Tired feet are refreshed and foot sweat can also be minimised with a foot deodorant. It is, however, important to use the right footcare product so that it can work best.
Using the right foot spray for a particular occasion
There are a range of foot sprays available for purchase: Deodorising products are designed especially for sweaty feet. Anyone whose feet tend to quickly sweat in shoes can combat this unpleasant situation with this foot deodorant. Plus, there are refreshing foot sprays that refresh and revitalise tired and stressed feet. They are neither time-consuming nor complicated to use:
Have a foot soak: it is best to use the foot deodorant on freshly washed feet. This allows the spray to work best. In addition, a cool foot soak on warm days is particularly good for the feet.
Dry the feet well: once the foot soak is done, the skin can be dried. Pay special attention to the areas between the toes in particular. There should be no damp patches.
Using foot spray to combat sweaty feet: once the skin is dry, the foot spray can be used. Spray the product carefully on all areas of the foot. Don't forget the areas between the toes.
Let the foot deodorant work in: Finally, let the footcare work in well. It doesn't take long but feels relaxing. Simply enjoy the refreshing and cooling feeling that the spray leaves on the skin of the feet.
The antiperspirant foot spray is best applied in the morning after showering. This enables a good start to the day without sweat problems and unpleasant odours.
You can also use a cooling foot spray throughout the day. It offers instant refreshment and pleasantly alleviates worn-out and stressed feet.
Shop nourishing foot sprays online at parfumdreams
Anyone who is on their feet a lot or wears enclosed shoes is familiar with the problem of sweaty feet, foot odour or painful feet. A good foot spray can help with this. At parfumdreams you will find a variety of products that care for the feet and also block unwanted foot sweat. This means you can trip through the day on light feet.