Tom Tailor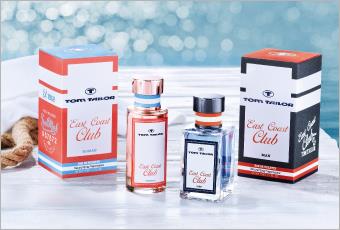 Since 1995, the fashion label Tom Tailor has offered fragrances and perfumes for men and women in a wide selection. Just like the style of the fashion and lifestyle company, founded in 1962, the various fragrance series were also created for young people between 15 and 25 years of age. The East Coast Club Woman, Liquid Woman and Est. 1962 Woman fragrances are available as pendants for men. The youthful women's fragrances are zesty and fresh, and have a floral notes. Perfume, Eau de Toilette and Eau de Toilette Sprays for men are just as fruity-fresh and have an oriental note.
Tom Tailor Fragrances were specially created for young people
In order to round off the fragrance series, Tom Tailor offers, in addition to the perfumes, after shaves, body lotions and shower gels for men and women in corresponding fragrance options. The fresh fragrances are also available as gift sets. With the men's and women's fragrances, young people will discover the joie de vivre of the America East Coast.