Untold Women's fragrances by Elizabeth Arden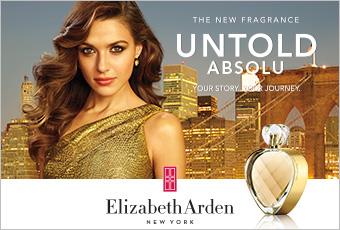 The Elizabeth Arden fragrance range ""Untold"" tells mysterious stories, has its mystical moments and yet is very open and pleasant. The fragrance from the Elizabeth Arden was launched in 2014 and was designed by Clement Gavarry. In its top note the experienced perfumer combines blackcurrants with bergamot, pear and pink peppercorns. Peony, gardenia and Egyptian jasmine are used in the heart note. The base note of patchouli, musk, ambergris and sandlewood completes the exquisite fragrance which is suitable for every day as well as for at the office and in the evening.
Subtle seduction by Elizabeth Arden
The women's fragrances of the international brand are deliberately selected as very pleasant and inviting. It is no wonder that the cosmetics experts have taken up more products in the Untold fragrance range. These include a caring body lotion and a refreshing shower gel, for instance. All women's fragrances and complimentary products in the range are designed in a shining gold and become a luxurious eye-catcher in the bathroom. The perfume is long lasting on the skin and has a very intense effect thanks to the eau de parfum blend.