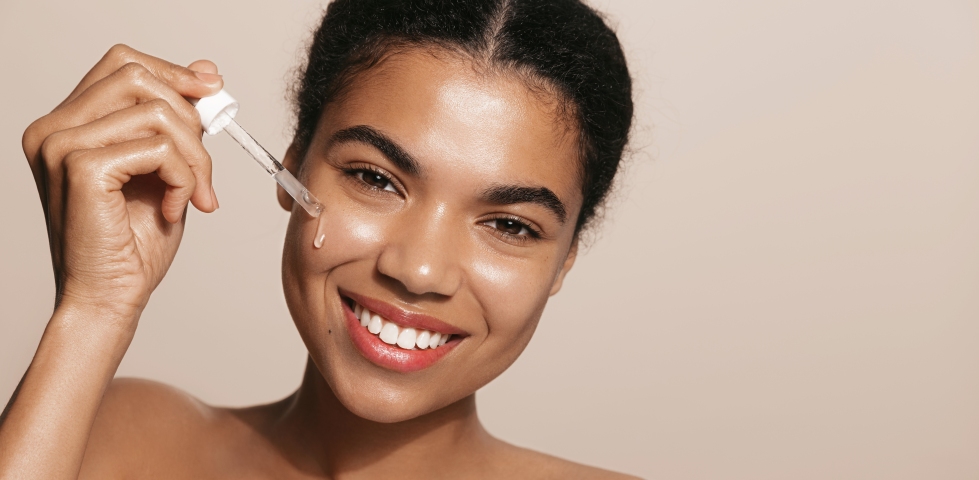 Niacinamide – everything about the beauty miracle for your skin
Niacinamide is contained in numerous cosmetics and is extolled with increasing frequency as a genuine beauty miracle. You will find this active ingredient in products such as serums, face creams and even face masks that are designed to keep your skin youthful and fresh. But what exactly is niacinamide, and what effect can it have on your skin?
04 January 2023 • 4 min. reading time
What is niacinamide anyway?
Niacinamide or nicotinamide is an amide of vitamin B3 (a modified form of this vitamin with a slightly different chemical structure). Vitamin B3, also known as niacin or nicotinic acid, is involved in various metabolic processes in the body. It performs tasks for the skin that promote the synthesis of the following components:
proteins

keratin

ceramide

elastin
Plus, Vitamin B3 is important for numerous oxidative processes in the body as well as for transferring hydrogen in the cells. Usually, we ingest this vitamin in our food. It is contained in foodstuffs like yeast, meat, milk, liver and germinated grains. An extreme deficiency in niacinamide or Vitamin B3 can result in the skin disease pellagra, which appears with symptoms such as reddening of the skin, itching, digestion trouble or even nerve damage, depending on the degree of severity of the deficiency. People who follow a vegan diet, in particular, should therefore take care to get an adequate supply of Vitamin B3.1
What effect does niacinamide have on the skin?
An external application of niacinamide affects the skin as follows:
it has a brightening effect

it stimulates the synthesis of collagen and elastin

it stimulates lipid production

it has an antioxidant effect (provides protection from the harmful effects of free radicals)

it protects the skin from moisture loss

it can regulate sebum production

it can reduce inflammation

it strengthens the natural skin protection barrier
All of these properties make niacinamide an ideal ingredient in cosmetics that are intended to improve the skin and strengthen the skin protection barrier. Pigmentation patches, age spots and redness can be reduced with the help of niacinamide. Niacinamide is also used for acne to soothe the skin and moderate inflammation. In the long term, the regulation of sebum production has a positive effect.2
What skin conditions can niacinamide be used for?
The use of niacinamide can be a sensible approach for many skin concerns or skin conditions. As niacinamide has a brightening effect, it can reduce pigmentation patches, age spots and sun spots or freckles. Plus, this effect can moderate acne or the occurrence of pimple marks. A good cream with niacinamide can also, with regular use, gradually make dark circles and bags under the eyes disappear. As niacinamide improves the skin's moisture supply, creams or a niacinamide serum are an excellent choice for treating dry skin. By stimulating the synthesis of collagen, ceramides and elastin, the elasticity and tone of the skin is also improved. This can reduce the signs of skin ageing and smooth the first fine lines and wrinkles. The antioxidant properties of niacinamide prevent premature photoaging. They can neutralise free radicals that are caused by UV light and can harm the skin.3
Does niacinamide help with acne?
Niacinamide is a tried-and-tested method, which deals with acne by regulating the sebum production of the skin, resulting in an overall improvement in the complexion. Pimples occur if the skin produces too much sebum and cannot release it through the pores. If a pore is blocked, more sebum collects there, which leads to the formation of a red nodule or pimple. If bacteria then collects at the spot, it can lead to unpleasant inflammation. Niacinamide can moderate these processes and thus prevent the formation of pimples and blackheads. Furthermore, the active ingredient stimulates the natural regeneration of your skin and strengthens its immune function. This makes it more resistant to external influences such as bacteria and other germs. A good supply of moisture, which is stimulated by the use of niacinamide, also improves acne-prone and impure skin.4
How to use niacinamide correctly
The best way to use niacinamide is to rely on the tried-and-tested formulas of cosmetics manufacturers. Companies like Lancôme, Biotherm, Kiehl's and IT Cosmetics work closely with dermatologists and plastic surgeons to carefully research the effectiveness of their products and how well they are tolerated. Furthermore, the individual formulations always come with detailed instructions for use, for extra safety. You can also rely on the corresponding product descriptions to answer the question of whether to use niacinamide in the morning or the evening. Some formulas are specially developed to work overnight – they promote the regeneration of your skin while you sleep. Other creams or serums are better suited to daytime use or for applying after your morning cleansing routine.
How long does it take for the effect of niacinamide to be visible?
This always depends on the product and the condition of your skin. Generally, you can say: At least two weeks of regular use are necessary for the effect of niacinamide to be visible on the skin. Some serums are effective after the first use, giving you a firmer, plumper and even skin tone. However, this is usually due to a complex product formula containing other ingredients, such as hyaluronic acid or ceramide.
A little patience is called for with regard to the brightening effect of niacinamide when it comes to pigmentation patches, age spots or pimple marks. These pigment changes fade slowly and gradually. This gentle process simply requires some time as your skin does not regenerate all at once but needs several weeks. Treatment with a niacinamide serum should therefore be continued for at least four weeks. It can take a number of days or weeks for the original inflammation to subside when treating acne and impure skin.2
Does Vitamin B3 have side effects?
A correct dose of niacinamide has no side effects. However, an excess of this vitamin can cause redness, itching and digestive troubles. An overdose through the use of cosmetics alone is highly unlikely. The concentrations of the active ingredient are too small to have negative effects on the body. However, if you take nutritional supplements with Vitamin B3 or niacinamide, you should ask your doctor if it is possible to use cosmetics containing niacinamide at the same time.5
Products with niacinamide
There are many different skincare products containing niacinamide available now. We have listed some below:
You see, niacinamide can do your skin a world of good. It promotes the natural regeneration of your skin, supplies moisture and has a beneficial influence on your skin protection barrier. With skin concerns like rosacea, impure skin and pigmentation patches, niacinamide can help make the complexion look more even-toned and smoother. Through the regulation of sebum production, it also has a beneficial influence on impure or oily skin. Plus, enlarged pores are minimised, which ensures a delicate and youthful-looking complexion.
Niacinamide is suitable for your personal anti-ageing routine. It protects your skin from the harmful effects of free radicals and reduces fine lines and wrinkles by improving the supply of moisture. Discover the numerous potent skincare products with niacinamide at parfumdreams now and treat yourself to some luxurious skincare!