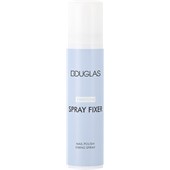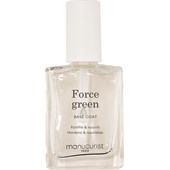 manucurist ParisHand & Nail care Force Green
€ 13.30
/ 15 ml
BP: € 886.67* / 1 l
5/5 AggregateRating
Nail strengthener – finally, help is here for brittle nails
Do you suffer with fragile, soft nails that break easily? Then the right nail strengthener can help you finally whip them back into shape again. It will strengthen your nails and make them more resistant to everyday stresses and strains. It will give your nails a well-maintained appearance and is therefore an absolute essential for your hand and nail care set. It is available in three different options:
Nail strengthener with natural substances: This is particularly kind on the cuticles. Calcium or silicon are used here. Chemical additives are largely avoided.
Nail strengthener with formaldehyde: Strengthens the nails by binding the different layers of the nail plate together. However, it can cause the cuticles to dry out a little. That's why a cuticle oil is recommended.
Formaldehyde-free nail strengthener: Acrylic or silica strengthen the nails and make them more resistant to external influences.
A special nail polish for brittle nails is also known as nail hardener. It comes in a small bottle with a brush and provides additional valuable vitamins and minerals. Resin or cellulose strengthen the nails, while hyaluronic acid adds moisture at the same time. Collagen or keratin can also improve the structure of the nails in the long term.
The correct way to use nail hardener
When it comes to nail strengthener: Apply the product only to clean finger nails. The nails must be free from oils and all nail polish should be removed. Otherwise the hardening substances of the nail strengthener will not work to their full effect. The exact method for use depends on the specific product.
Most are used in the form of a treatment over several days. To do so, you apply only a thin layer on the first day. On the second day, you apply a further layer of nail strengthener. On the third day, you remove everything with nail polish remover and apply a fresh coat once again. You repeat this process as often as is recommended by the manufacturer. You will usually begin to see an improvement after a few days.
Some nail strengtheners can be used as a base coat. No matter which product you choose, always follow the manufacturer's instructions. For travel and quick freshen-ups between manicures, nail strengtheners are also available in practical pen designs.
The best way to use nail polish for brittle nails
There are many reasons why you might suffer from brittle nails. Strengthening your nails from the outside is one way of dealing with the problem. However, even the best nail strengtheners won't help you much if you don't care for your hands properly. Are your fingers often exposed to irritating substances? Do you nails a favour by wearing gloves, and investing in a nourishing hand cream.
Regular manicures are essential for sensitive nails. The nail hardener is just the icing on the cake here. Treat your cuticles to rich oils and lots of vitamins. You should massage them regularly and protect them from dryness before applying the nail strengthener.
Shop nail polish for brittle nails at parfumdreams
Don't let your brittle nails get you down any longer. At parfumdreams, you can discover nail hardener to give you a sophisticated look. Finally, you can have long nails that will withstand the stresses of everyday life while also looking fantastic.