Hand scrubs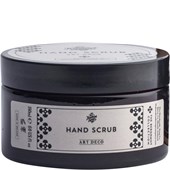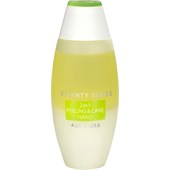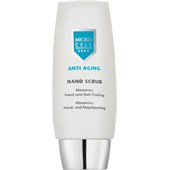 Micro CellHand CareLimited EditionHand Scrub Silver Line
BP: € 132.67* / 1000 ml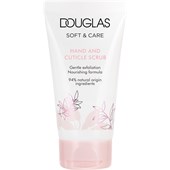 Douglas CollectionSkin care Hand and Cuticle Scrub
€ 7.95
/ 50 ml
BP: € 159.00* / 1000 ml
5/5 AggregateRating
Hand peeling for soft hands
Constant hand washing, disinfectant, as well as the weather and dry air from the heating system all take their toll on our skin. The skin on the hands is naturally very low in oil so it tends to become dry and cracked. A hand peelingcan remedy this and make your hands soft to the touch. A hand exfoliator is also great for stressed and brittle cuticles. A hand scrub is impressive as the effect is instant and delivers noticeable results – for soft hands and nourished cuticles.
Peeling for dry hands with instant effect
A peeling works after the very first application. Fine micro-particles in a hand exfoliator intensively cleanse the skin, removing dead skin cells and dirt. Hand peeling also nourishes the hands with high-quality oils – the effect is noticeable after the very first application.
Natural hand scrubs
The power of nature is everywhere in hand scrubs. Sea salt and coffee particles are two popular ingredients added to hand scrubs. Almond and grape seed oil are suitable for intensive care. Both oils help to make the skin resistant and provide it with moisture. High-quality peelings also contain antioxidants, replenishing lipids and essential fatty acids. These ingredients are responsible for the anti-ageing effect.
Care after using a hand scrub
To intensify the care effect of a hand scrub, make sure to follow it up with a high-quality hand cream. Of course, you can find suitable hand care sets at parfumdreams. Or you can put together your personal favourites right away. Choose from hand cream, hand scrub and matching hand mask. A coordinated skincare range will make your hands a delight to behold and soft to the touch. Gone are the days of dry hands and flaky cuticles.
Find an exfoliator for your hands at parfumdreams
Browse through the large selection at parfumdreams and find the right care product for your skin type. Find your favourite products quickly and easily using the practical filter function. Have your hand scrub delivered to your door, along with a matching hand mask and hand cream, and let your hands do the talking.