Shaving bowl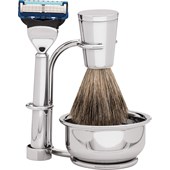 ERBEShaving sets Shaving Set 4pcs, Gillette Fusion
€ 210.62
/ 1 pcs.
BP: € 210.62* / 1 pcs.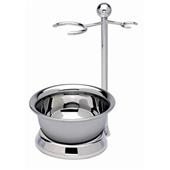 ERBEShaving sets Razor and shaving brush holder
€ 80.65
/ 1 pcs.
BP: € 80.65* / 1 pcs.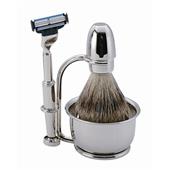 ERBEShaving sets Gillette Mach 3 shaving set, 4-part
€ 179.30
/ 1 pcs.
BP: € 179.30* / 1 pcs.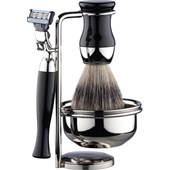 ERBEShaving sets Shaving Set Gillette Mach3, 4-pcs
€ 218.44
/ 1 pcs.
BP: € 218.44* / 1 pcs.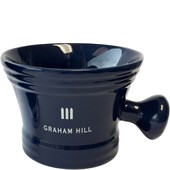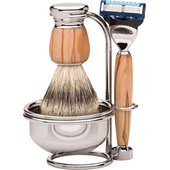 ERBEShaving sets Shaving Set Milano Fusion
€ 257.60
/ 1 pcs.
BP: € 257.60* / 1 pcs.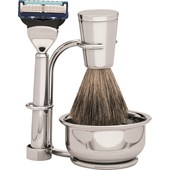 ERBEShaving sets Shaving Set Gillette Fusion, 4-pcs
€ 210.62
/ 1 pcs.
BP: € 210.62* / 1 pcs.
5/5 AggregateRating
What is a shaving bowl?
A shaving bowl is an important utensil for a classic wet shave. Men who shave with a straight razor, shaving soap and a shaving brush instead of opting for a multi-blade or electric razor also need a shaving bowl for a variety of reasons.
A shaving bowl is always included in a well-equipped shaving set for men. It can, however, also be purchased individually. Shaving sets are frequently arranged in such a way that the brush rests over the bowl. Its function, however, goes far beyond simply catching excessive drops lingering on the brush.
Why do you need a shaving bowl?
A shaving bowl has many important functions. You need it to lather the shaving soap with the brush. The material of the bowl and its size are critical. If it is too small, the lather will billow over the edges. If it is too big and you put a bar of shaving soap in it, the soap keeps moving away and you simply cannot get a good lather.
It's not a good idea to simply whisk your shaving soap in a soap dish. The consistency of the lather will be different and the experience is different too. Anyone who treats themselves to the luxury of a wet shave with a brush and shaving foam they have lathered themselves, should also use a smart shaving bowl to complement the equipment.
What is the best size for a shaving bowl?
We recommend a diameter of between eight and twelve centimetres. We recommend a height of between four and eight centimetres. The size and volume of your shaving brush is also critical – after all, it has to fit comfortably in the bowl and have enough space there to be moved about so you can create the perfect shaving foam.
What other reasons are there for you to need a shaving bowl?
Another reason why a shaving bowl is indispensable is that it is easier to clean the brush with it. Simply fill the clean bowl with fresh water and clean your brush in it. Finally, you can rest the brush over the bowl and let any drops of water that might still be present drip into the shaving bowl and not onto your bathroom shelf.
What material should a shaving bowl be made of?
There are a variety of options you can choose from when it comes to the material:
Stainless steel has very little friction so you can whisk your shaving soap quickly and work up a good lather.
Horn is a natural material and provides a microporous lather. Plus, the material is always slightly cool so the lather in the bowl remains thick for the entire length of the shave and you don't have to lather it again.
Wood looks smart, although you need to take care that it is well sealed. Otherwise, splinters could damage your brush and it could swell up through regular contact with water.
Porcelain is also very suitable, although it is breakable and if you drop the bowl, you will very likely need to get a new one.
There are suppliers who sell shaving soap with the shaving bowl, whose diameter fits the bowl perfectly. This is certainly an option – but you don't have to buy one of these if you have a preference for another soap.