Face mask for acne & pimples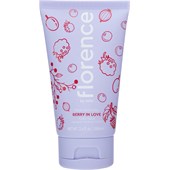 florence by millsCleanse Berry in Love Pore Mask
€ 18.79
/ 96 g
BP: € 195.73* / 1000 g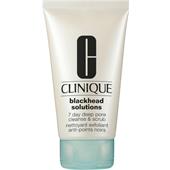 CliniqueExfoliatorBlackhead Solutions7 Day Deep Pore Cleanse & Scrub
BP: € 231.60* / 1000 ml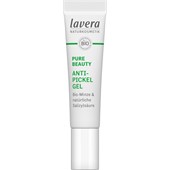 LaveraCleansing Pure Beauty Anti-Spot Gel
€ 4.69
/ 15 ml
BP: € 312.67* / 1000 ml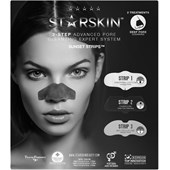 StarSkinFaceSunset Stripes3-Step Advanced Pore Cleansing
€ 8.61
/ 6 pcs.
BP: € 1.44* / 1 pcs.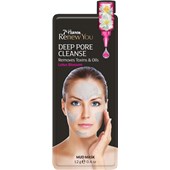 Montagne JeunesseFacial care Deep Pore Mud Mask
€ 1.79
/ 12 g
BP: € 149.17* / 1000 g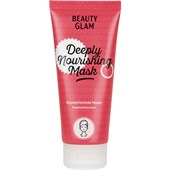 BEAUTY GLAMMasks Deeply Nourishing Mask
€ 7.82
/ 100 ml
BP: € 78.20* / 1000 ml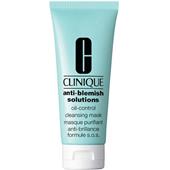 CliniqueFor impure skin Anti-Blemish Solutions Cleansing Mask
BP: € 289.50* / 1000 ml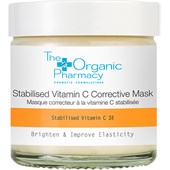 The Organic PharmacyFacial care Stabilised Vitamin C Corrective Mask
€ 46.98
/ 60 ml
BP: € 783.00* / 1000 ml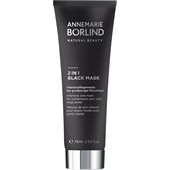 ANNEMARIE BÖRLINDBeauty Masks 2 in 1 Black Mask
€ 29.72
/ 75 ml
BP: € 396.27* / 1000 ml
4,5/5 AggregateRating
Face masks for acne: How do they work on the skin?
No one likes pimples, but they can't always be avoided. They can effect our quality of life and even cause pain and inflammation. But there are things that help with pimples and even the possibility of preventing them.
With face masks for acne, the skin is cleaned right down to the pores and excess sebum is removed. This means the skin can breathe again, impurities are a thing of the past and the overall complexion appears clear and fresh. This in turns improves your overall well-being and ensures that you feel great in your skin again.
The worst thing you can do with pimples is pop them. The bacteria on your hands can cause contamination. This can cause the pimple to become inflamed and may result in scars or dark spots. Instead, try anti-pimple products. First and foremost you should try a face mask for acne, because it stays on the face for a long time, is absorbed deep into the skin and in that way unfurls its soothing, clarifying effect.
What ingredients does a face mask for acne contain?
Face masks for acne generally contain soothing ingredients that have a healing effect on inflammation and remove excess sebum and skin flakes. This clears the pores. Nourishing ingredients are also a fixed component of face masks for acne. Standard ingredients in face masks are:
Tea tree oil, which has an antibacterial effect
Zinc, which targets inflammation
Witch hazel, which reduced inflammation
Panthenol, which soothes the skin and reduces redness
Aloe vera, which has a hydrating effect and provides gentle care
Salicyclic acid for cleansing right down to the pores
What types of face masks for acne are there?
There are face masks that are applied to the skin like a cream, left to take effect and then washed off again.
However, there are also face masks that have a gel-like consistency and dry on the skin after being applied. They can then be peeled off, removing skin flakes, excess sebum and blackheads along with them. These peel-off face masks for acne are especially popular, because they leave the skin feeling especially soft. After peeling off the mask, wash off your face. You can then apply a day or night cream.
Which face mask should be used for which skin type?
There are different types of face masks for acne that should be used depending on your skin type:
For dry skin, the cream masks are particularly suitable, because they provide the skin with lots of hydration and ensure a deep clean right down to the pores.
For oily skin, gel masks are ideal, because they are often lighter in terms of consistency and are able to better regulate sebum production.
For combination skin, mud masks are a good choice, because they provide effective care to both dry and oily areas in the face with natural minerals.
How can you prevent pimples?
Pimples can occur for various reasons. Stress, an unhealthy diet, smoking and alcohol can also cause impure skin, as can hormonal changes or the lack of a care routine, letting dirt get into the pores. Establishing a care routine is not hard, for instance by using a face mask for acne on a regular basis.
To prevent pimples, the face should not only be treated with a face mask for acne every now and then, it should also be washed every day with a mild wash gel and then dried with a fresh, clean towel. If you use the same towel that you use for drying your hands or other body parts, you will just be rubbing bacteria back into the pores.
Light creams are also the key to less pimples, because greasy and oily creams can quickly block the pores. Using a face mask for acne two to three times a week can also help when you don't actually have any pimples at the time. After all, there is always bacteria present on the skin which can lead to inflammation and pustules as soon as the body is out of balance.