Q10 creams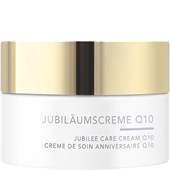 Charlotte MeentzenQ10 Jubilee Care Cream
BP: € 804.00* / 1000 ml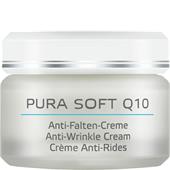 ANNEMARIE BÖRLINDSPECIAL CARE Pura Soft Q10
BP: € 619.00* / 1000 ml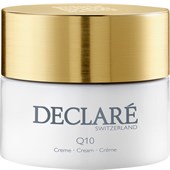 DeclaréAge Control Q10 Age Control Cream
€ 33.95
/ 50 ml
BP: € 679.00* / 1000 ml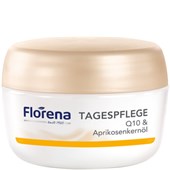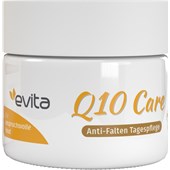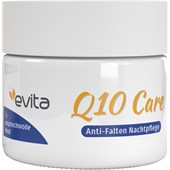 EvitaFacial care Q10 Care Anti-Wrinkle Night Cream
BP: € 61.80* / 1000 ml
5/5 AggregateRating
Q10 cream: why is it so popular?
The coenzyme Q10 is a popular ingredient in many creams. It is known as an anti-ageing enzyme, which gives the skin a fresh, smooth complexion. Q10 skincare supports the regeneration of the skin cells and protects the skin from damaging environmental influences.
What exactly is Q10?
The coenzyme Q10 is present in every cell in the body and is produced by the body itself. It is also called ubichinon and from a biochemical perspective, it's similar to a vitamin. It has two different tasks in the cells of the body:
Q10 is essential for fuelling the cells with energy in the mitochondria, also known as the "cell's powerhouse". It strengthens important organs as well as muscles and nerves. Even fat burning can be boosted by Q10.
What's more, as an antioxidant, Q10 takes on the function of defending the cells against free radicals. Free radicals are aggressive oxygen compounds that have a damaging effect on the cells and can emerge as a result of UV radiation, pollution or stress. Having Q10 in your skincare routine counteracts this effect, even outside of your cells. In this way, it contributes towards giving your skin a youthful look.
A lack of Q10 in the body would mean that important organs such as the lungs or heart would no longer be able to function properly and would age more quickly. The same goes for the skin.
Q10 in a cream: The effects of this active ingredient on your skin
From the age of 20, your body's own production of Q10 in the cells begins to decline. This also leads to the progression of skin ageing: The skin slackens and wrinkles form more frequently. A healthy diet and plenty of movement are one way to support the skin's own production of Q10. But the right Q10 cream can at least ensure that the skin is replenished with this enzyme.
A cream with Q10 not only gives the skin plenty of moisture, but also makes it more elastic. In this way, the development of laughter lines can be reduced, which is why Q10 is a popular active ingredient in anti-ageing creams or creams for mature skin. The antioxidant effect of Q10 face creams also protects the skin's barrier and collagen scaffold. This is repeatedly attacked by free radicals, which causes the skin to become slack and less radiant. With a Q10 skincare product, your skin will shine again with a new glow.
Q10 creams can be spread evenly on the skin and are quickly absorbed. This can balance out a lack of Q10 in the skin and with regular use, the results can be impressive.
When should you start using Q10 skincare products?
Adding a Q10 face cream to your skincare routine makes sense from the age of 30. In your 20s, it's generally not necessary yet because your skin is still producing enough of its own Q10. Therefore, Q10 is included in creams for women with mature skin in particular, i.e. from the age of 50 and above.
However, when it comes to creams, you shouldn't just think about your face. Other areas of the skin also require regular care. For example, the hands are often unprotected against UV rays and therefore also need a rich cream with Q10 and other valuable ingredients. A body lotion with Q10 is a good idea when caring for your skin. After all, the skin on the décolleté, arms, legs, stomach and back is also affected by skin ageing and the loss of Q10.