Blackhead face masks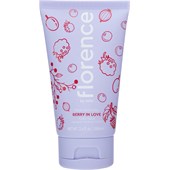 florence by millsCleanse Berry in Love Pore Mask
€ 22.95
/ 96 g
BP: € 239.06* / 1000 g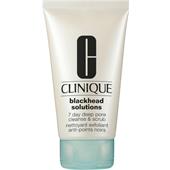 CliniqueExfoliatorBlackhead Solutions7 Day Deep Pore Cleanse & Scrub
BP: € 231.60* / 1000 ml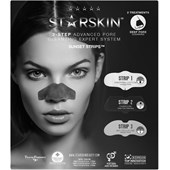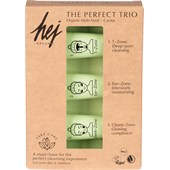 Hej OrganicMasks Perfect Trio Multi Mask
BP: € 231.67* / 1000 ml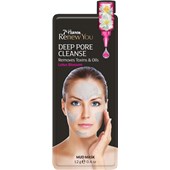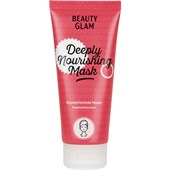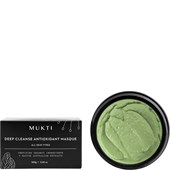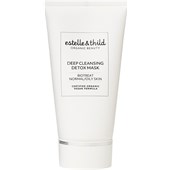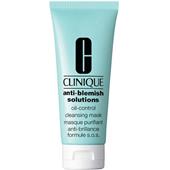 CliniqueFor impure skin Anti-Blemish Solutions Cleansing Mask
BP: € 289.50* / 1000 ml
4,5/5 AggregateRating
Blackhead face masks: Getting rid of blackheads fast
Blackheads don't always disappear forever after puberty. They can also keep occurring in later life when the skin produces too much sebum. These little black spots that primarily appear on the nose and chin can be removed using a blackhead face mask.
Blackheads have various causes including stress, hormonal changes, lack of facial cleaning or skin that is naturally oily. Blackheads can become inflamed, which is very important to avoid. A blackhead face mask can therefore be an important step to clear and clean the skin and remove the blackheads in a gentle way.
Here are the different types of blackhead face masks
There are various types of blackhead face masks that can help combat these black spots. These include:
Peel-off masks: a mask that pulls out the blackheads is a popular method to tackle these impurities. The creamy or gel-like mask is applied to the skin, allowed to dry and then peeled off the skin around 20 to 30 minutes later. The blackheads are pulled out along with the mask. Dirt on the skin and in the pores is effectively removed, leaving the skin looking fresh and clean. If you have very dry or sensitive skin, it might be better to avoid peel-off masks, because they can further irritate the skin. In such cases, gentler alternatives that also have a hydrating effect are a better choice. Peel-off masks are most suited to oily or normal skin types.
Activated charcoal masks: activated charcoal binds dirt and excess sebum and pulls impurities out of the skin like a magnet. Activated charcoal is usually obtained from coconut shells and ensures effective skin cleaning. The mask is applied to the face where it is left to take effect before being simply washed off with water.
clay face masks: it is also possible to remove blackheads with a clay mask, which extracts excess sebum from the pores and at the same time provides the skin with valuable nutrients. Clay face masks are especially beneficial for dry and sensitive skin, which makes them a good alternative to peel-off or activated charcoal masks.
How to use blackhead face masks properly
Before you remove your blackheads with a face mask, you should wash your hands thoroughly. This is because every time you touch your face with your hands, you introduce new bacteria that may lead to inflammation and black spots. You should also clean your face before applying the mask.
The type of blackhead face mask you use depends on which type of application is most practical for you and what your skin copes best with. However, it is not just the face mask that you use which is decisive for dealing with blackheads, but also how you care for your skin afterwards.
After every mask, you should cream your face to supply it with valuable antioxidants, minerals and moisture. It is important here to use a light cream so that you don't block up your freshly cleaned pored with oily substances again.
How often should you use a blackhead face mask?
How often you use a blackhead face mask depends on how stubborn your blackheads are as well as on your skin type. If you have normal or oily skin, you can easily use a mask two to three times a week without drying out your skin too much. If you have dry skin, it is enough to use the mask one to two times a week.
Tip: Only apply the mask where your skin is actually affected by blackheads. In this way you can prevent other areas of skin from drying out too much.
At parfumdreams, you can find a huge selection of blackhead face masks, letting you add an important additional step to your face care routine.