Intimate hygiene for men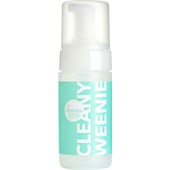 Men's intimate hygiene – products to cleanse, care for and protect your skin
Paying too much or too little attention to personal hygiene in sensitive intimate areas can quickly lead to discomfort. If you wash yourself too often, your skin will dry out and become more vulnerable to germs. Neglecting men's intimate hygiene causes bacteria and other pathogens to multiply unchecked. This can cause unpleasant odours, and in the worst case, genital diseases. That's why it's important to make sure you are caring for this intimate area properly. At parfumdreams, you'll find a range of products to help you with this.
Which products are suitable for men's intimate hygiene?
The glans is a particularly sensitive area for men. If you use a normal shower gel to wash this area, it could lead to skin irritation and itching. This is because soap and other alkaline substances have a higher pH value. They attack the skin's natural protective acid mantle and dry out the skin. This means that it is no longer able to protect itself.
pH skin-neutral products specially designed for men's intimate hygiene are slightly acidic to match the pH level of the skin. This leaves the protective acid mantle in tact. A mild intimate washing lotion or intimate wash gel with a skin-soothing formula will support you in your daily intimate hygiene routine, while also providing protection against infections. They are also suitable for use in the anal area.
Products for protective intimate hygiene for men
When it comes to men's intimate hygiene, you'll find a whole range of products at parfumdreams: Intimate washing lotion, intimate wash gel and intimate wipes or special shaving gel. We'll show you the most popular options:
Intimate wipes: These wipes are suitable for quick intimate hygiene on the go. They provide a freshly washed feeling, prevent unpleasant odours and are kind to skin. The products contain allantoin, which soothes skin, and valuable oils, which are hydrating and moisturising. They prevent dryness in the sensitive skin in intimate areas. Vitamin E has an anti-oxidant effect and supports the skin's natural barrier function. Aloe vera has a regenerative, moisturising, anti-inflammatory effect. Maize starch absorbs sweat and moisture. It keeps things dry in the intimate area.
Intimate deo spray: Prevent unpleasant odours caused by sweat with deodorant designed specially for men's intimate hygiene. It has targeted effect on reducing sweat production to ensure the intimate area remains dry. The sprays are pH-neutral and are intended for daily use. They don't disrupt the skin's sensitive protective acid mantle and they contain nourishing ingredients. To apply them, spray onto the relevant areas of skin directly after washing.
Intimate washing lotion for men: This cleanser ensures a fresh, clean feeling in the intimate area, without causing irritation to the sensitive skin here. It is pH-neutral and preserves the skin's natural protective acid mantle. The ingredients of these products include lactic acid to preserve the slightly acidic environment of the intimate area. Valuable oils moisture the skin. Allantoin, panthenol, comfrey and chamomile have a soothing effect. They prevent itching, redness, blemishes and irritation to the skin. Intimate wash gel for men effectively combats intimate odours, leaving behind a fresh scent and a pleasantly clean feeling.
Intimate shaving foam: The mild foam is pH-neutral. It is the perfect way to prep the skin in the intimate area before shaving, and provides the skin with nourishing ingredients. Vitamin B3 has a soothing effect, strengthens the skin's protective barrier and reduces redness. Glycerine provides the skin with moisture. Lactic acid ensures the health of the skin's protective acid mantle.
Aftershave balsam for the intimate area: After shaving, this balsam prevents itching, in-grown hairs and razor burn. It soothes the skin with chamomile, panthenol and valuable oils.
If you have sensitive skin, you should choose pH-neutral products for men's intimate hygiene, which are unperfumed and alcohol-free, because these ingredients can lead to irritation and sometimes cause contact allergies.