Shaving gel for men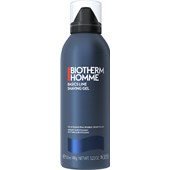 Biotherm HommeShaving, cleansing, peeling Shaving Gel
€ 18.95
/ 150 ml
BP: € 126.33* / 1000 ml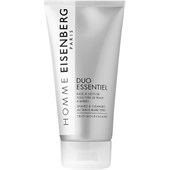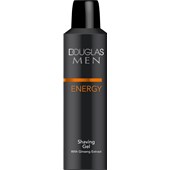 Douglas CollectionFacial care Shaving Gel
€ 9.95
/ 200 ml
BP: € 49.75* / 1000 ml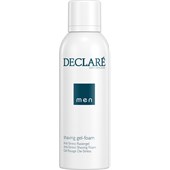 DeclaréSkin care Anti-Stress Shaving Gel
€ 14.95
/ 150 ml
BP: € 99.67* / 1000 ml
5/5 AggregateRating
Shaving gel for men – gentle care for smooth skin following a shave
If you want smooth skin, you need to shave regularly. But men's skin is very sensitive, especially on the face. If you want to get rid of stubble gently and reliably, you need more than just a razor. Using men's shaving gel helps achieve a wet shave and leaves the chin, upper lip and cheeks soft.
Step by step to a successful shave with shaving gel
If you want your skin to feel smooth and comfortable without any annoying stubble, it is best to use shaving gel for men when you shave. Its structure makes applying the product to the skin and spreading it with the fingers easy. And allows you to reach even hard-to-reach areas of the face such as around nose, chin, cheeks and ears. You may find the following tips helpful to avoid irritating the skin and to prepare it for the shaving process:
Preparing your face: Before shaving, cleanse your face with lukewarm water. This helps to remove excess facial oil, dirt and dead skin particles. The water also hydrates the facial hair. They become softer and offer less resistance when shaving.
Applying shaving gel: One advantage of shaving gel is that it is easy to dispense. You can use small amounts to apply the gel evenly to different parts of your face. This prepares the skin perfectly for shaving and the razor blades will irritate less.
Shaving the face: Now you can use your razor. Do not shave using blunt blades. These irritate the skin and can cause razor burn. Use fresh blades as the combination of shaving gel and razor then works much better.
Work with gentle shaving strokes: Gently applying pressure that is not too strong helps you achieve a good shave. Work slowly and carefully, moving the razor along the contours of the face. Rinse the blades repeatedly to make the shave more comfortable. The fewer hairs and product clogging the blades, the more thorough the result.
Remove shaving gel from the face: After shaving, remove excess gel from the face. This also removes any bits of hair. You'll be left with a soft, irresistible skin sensation. To avoid skin irritation after shaving, apply a moisturising care product to the dry skin.
Do not shave without using a shaving gel or shaving foam. Otherwise, the skin is unprepared and could react with severe irritation and sores. So always use shaving gel and foam for every shave and make the whole procedure as comfortable as possible.
A wet shave almost succeeds by itself with a good shaving gel
Men who prefer a classic wet shave should always use a shaving gel. Shaving foam lathers up a lot and sometimes covers up the parts that still need to be shaved, but shaving gel is much easier to use. You not only need less product, but it is also gentle on the skin and makes shaving easier.
We recommend applying shaving gel for men generously over the face, though. Only in this way is it possible to optimally protect your skin and ensure a safe shave. Your skin will reward you with pleasantly soft facial areas free from redness, cracks or sores.
Order practical shaving gel for men at parfumdreams
For many men, shaving their beard is part of their daily grooming routine. Shaving your face straight after a shower is very easy as it softens the skin and makes it ready for removing facial hair. Parfumdreams has a number of premium shaving gels for this very purpose, which make shaving much more pleasant and enjoyable. For a well-groomed complexion that looks utterly irresistible.