Special care Skin care by Erborian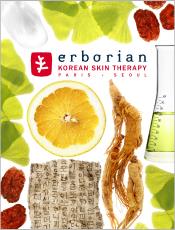 Only a handful of South Korean brands have succeeded in establishing themselves in the European cosmetics industry. Erborian is one of these, and offers tailored care for every skin type in addition to cosmetic products. As well as products that prepare the skin for first-rate treatment and tailored facial care, the company offers a special care range of preparations to help treat sensitive or diseased skin. The care products of the Korean manufacturer hereby rely on the natural effects of ginseng and other plants, supplemented by high-quality medical ingredients. A quick peek in our online shop will show you which special care products are suitable for your individual needs.
Advanced care and cosmetics with ginseng & co.
Erborian's special care products are offered under the Skin Therapy range, thus all of the products primarily follow a treatment approach. Besides nourishing balms, which can be applied extensively on a large number of areas of the body, special care products for the eyes and other areas of the skin are also available. These help fight progressive skin ageing, for example, whereby the natural cosmesis of maturing skin is also supported. In addition to care preparations to be applied on a regular basis, body milk and massage candles are also available, which can be found as special items in this and other Erborian product ranges.
You, too, can treat your skin to high-quality, affordable care
If you're looking for skin care products that make a direct contribution to beauty preservation and follow a basic medical concept, Erborian products are a good choice. Our shop has confidence in this popular South Korean brand and helps you choose between the various care products of the manufacturer. On top of special care products we also stock further ranges by the manufacturer, which can be used daily and promote the healthy disposition of your skin. As with all of the cosmetics, exquisite perfumes and other care products we offer in our shop, you can expect to find Erborian products at attractive prices!
Special care by Erborian