Fragile by SBT cell identical care
The products in the Fragile body care range from SBT Sensitive Biology Therapy calm your skin cells,…
Learn more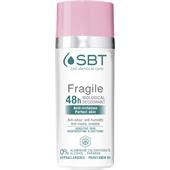 SBT cell identical careFragile Roll-On Deodorant
BP: € 292.67* / 1000 ml
5/5 AggregateRating
Fragile Body care by SBT cell identical care
The products in the Fragile body care range from SBT Sensitive Biology Therapy calm your skin cells, stand up to the signs of ageing and ensure an even complexion. As shown in clinical tests, sensitive skin is liable to irritation and itching at any age and this can make the skin tone appear uneven or facial wrinkles to appear more and more throughout the year. The calming Fragile everyday cosmetic moisturises skin and smoothes fine lines and wrinkles. The Fragile body care range includes a gentle, soap and sulphate-free Shower Gel, a calming Anti-Ageing Eye Gel, an intensely calming Anti-Ageing Cream and a calming and cleansing Micellar Solution.
Cell Life Youther - the unique anti-ageing caring active ingredient
The dermatologist, Prof. Volker Steinkraus, Founder of the DERMATOOGIKUM Hamburg, was confronted with a whole host of questions on ""beautiful skin"" day in, day out. Whilst looking for answers he established that isolated cells died in pure water under laboratory conditions, whilst those in a skin-similar cell nourishing solution survived. This knowledge caused him to think about using these components in cosmetics. The result of this logical conclusion is the body care products from SBT Sensitive Biology Therapy. This is the first care product that is based not on water but on Cell Life Youther, a skin-identical cell nourishing solution. This contains 55 essential ingredients from the most diverse of nutrients groups, including trace elements, minerals, amino acids, vitamins and anti-oxidants. Cell Life Youth is only present in the cosmetics products of SBT Sensitive Biology Therapy. Thanks to this solution, the skin's reserves are filled up again - at the precise time this is needed and in the biologically necessary concentrations.