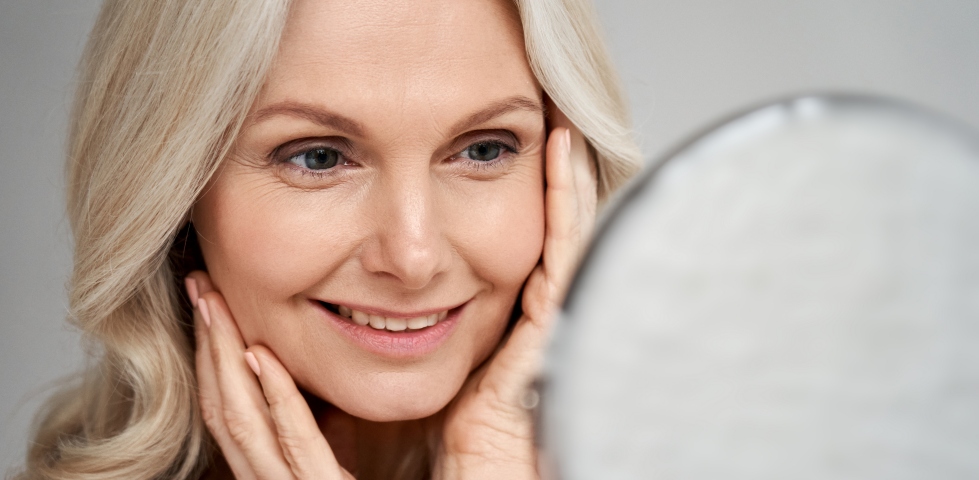 Preventing wrinkles – with the right skincare
How to prevent wrinkles – why is it important? Wrinkles on your face and other parts of your body are natural signs of skin-ageing. Most women, and also many men, would like to reduce existing wrinkles and prevent new wrinkles from forming. A healthy lifestyle and various preventative measures can go a long way in this regard. Combined with a skincare routine that suits your skin type, you can prevent signs of skin-ageing.
04 January 2023 • 4 min. reading time
What causes wrinkles?
Wrinkles form when the skin becomes drier and less elastic due to ageing processes. The extent to which these processes result in visible wrinkles depends on your genetics, your lifestyle and environmental influences. Up until the age of 25 years, your skin completely regenerates itself at intervals of around 28 days. After this, the regeneration process starts taking longer and longer, which can lead to signs of ageing such as wrinkles, fine lines, pigment spots and loose skin. The key factor here is that the supply of moisture to the skin is reduced. The support functions and elasticity of the skin also decrease as we age.
How can you prevent wrinkles from forming?
If you wish to prevent wrinkles from forming, you can do so using a high-quality anti-wrinkle cream and by leading a healthy lifestyle. For instance, combine a regenerative serum with a good day cream with SPF and a moisturising night cream. Combine these measures with a healthy lifestyle. This includes eating a balanced diet, protecting your skin from UV rays, getting enough exercise in the fresh air and getting enough sleep. The following tips help you prevent the formation of wrinkles with simple measures.
Massaging wrinkles away
A gentle massage can stimulate circulation in your face. This promotes natural skin regeneration. The physical stimulation also promotes the formation of collagen. Some wrinkles are also caused by your facial expressions. They can become more pronounced when the same muscles keep on being used in the face. A gentle patting massage can release this tension and reduce expression lines accordingly.
How to prevent wrinkles with daily UV protection
If your skin is exposed to sunlight for too long without protection, the UV rays can damage your skin cells. Acute cases manifest as redness or sunburn. In the long term, this causes the skin to lose its firmness and elasticity and can result in pigment changes such as pigment spots or age spots. In extreme cases, it can even result in the development of melanomas (cancer). You should, therefore, always protect the delicate skin on your face with a sunscreen or day cream with SPF if you are outdoors for long periods.
Promoting healthy skin functions through diet
In order to work as it should, your skin needs various substances which you normally obtain through food. These include, for example:
Vitamins – which promote the regeneration of your skin cells
Minerals and trace elements such as iron, zinc and selenium – which are required as building blocks and catalysts for cell regeneration
Antioxidants – which boost the natural protection of your skin, because they can neutralise the harmful effects of free radicals
Fresh food that is as unprocessed as possible such as fruit, vegetables, nuts and cereals are all good choices for a healthy diet.
What influence does your lifestyle have?
A healthy lifestyle helps you maintain a healthy, youthful, smooth complexion. Doing the following can help you prevent the formation of wrinkles:
Not smoking
Getting daily exercise in the fresh air
Maintaining a healthy social life for emotional balance
Avoiding toxins and harmful environmental influences
Maintaining a good work–life balance with plenty of sleep and regular exercise
Doing these things will protect your whole body, and thereby also your skin, from antioxidant related stress. If your body doesn't have to fight off toxins or cigarette smoke, for instance, then it has much more energy to dedicate to regeneration.
What to do in the early stages of wrinkle formation?
If you can see wrinkles or fine lines forming on your face, you can combat them with a targeted care routine. It is best to use high-quality anti-ageing products that promote the natural regeneration of the skin and provide intense hydration. These products include:
Face serum for daily use (mornings or evenings)
Ampoule treatment with regenerative active ingredients
Regenerative night cream
Nourishing and protective day cream
Intensively regenerative face masks
Gentle face cleanser
Make sure you hydrate your skin regularly and protect yourself from UV rays even in your younger years – doing so will prevent wrinkles in the face.
When should you start thinking about preventing wrinkles?
If you want to prevent wrinkles, you shouldn't wait too long to start. The regeneration processes of your skin already start slowing down at the age of 25, and you may start seeing some initial lines and wrinkles then. The innovative moisturising cream Confidence In A Cream from IT Cosmetics reduces the typical signs of skin ageing. Its formula contains ingredients such as collagen, niacin, peptides, hyaluronic acid and ceramides, which promote an even, refined complexion and prevent wrinkles. Do you tend to suffer from a pale complexion and dryness? Then try a richer day cream such as the Blue Therapy Revitalize Day Cream from Biotherm. This nourishing anti-ageing cream has a revitalising effect, hydrates your skin and visibly reduces wrinkles. Its light tone gives your complexion a fresh, youthful glow and makes it look more even.
Why should you start thinking about preventing wrinkles at 20?
Even though most people do not have any visible wrinkles or fine lines in their faces at the age of 20, you can still take steps to prevent wrinkles and other signs of skin ageing in advance. Your lifestyle (including avoiding toxins, eating a healthy diet and not smoking) and carefully protecting yourself from UV rays are particularly important in this regard. UV rays are one of the main causes of premature skin ageing, resulting in a loss of firmness, elasticity and more. Even though your skin regenerates itself regularly, damage caused by UV rays can have long-term effects if it penetrates the upper layers of skin and goes deeper.
What active ingredients prevent the formation of wrinkles?
Certain active ingredients in cosmetic products promote the regeneration of your skin and have an uplifting effect thanks to optimal hydration. This effect can reduce wrinkles and fine lines and prevent premature skin ageing. The most important ingredients include:
Hyaluronic acid promotes the hydration of your skin (this is ideal if you want to prevent forehead wrinkles, for instance)
Retinol (belongs to the vitamin A family) promotes the regeneration of your skin, reduces wrinkles and makes the skin look more even
Collagen is essential for your skin to retain its firmness and elasticity; you can promote the body's natural synthesis of collagen with retinol or fruit acid peels
Niacinamide (vitamin B) promotes the regeneration of your skin, strengthens the natural skin protection barrier and reduces pigment spots
What products help prevent wrinkles?
Anyone who wants to prevent wrinkles can achieve good results with high-quality anti-ageing products. Alongside intensely hydrating your skin, ingredients such as hyaluronic acid, niacinamide and retinol promote the natural regeneration of your skin as well as the synthesis of collagen and elastin. This can make the complexion appear smoother and more even. It is never too early to start preventing wrinkles and fine lines on your face. At parfumdreams, you will discover a huge range of exclusive creams and serums that are suitable for use on the face, particularly on the sensitive skin around your eyes.