Scented candles Accessories by Ligne St Barth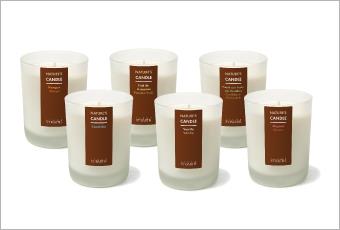 The Ligne St Barth Scented Candles are chic deco accessories which ensure comfortable flair in every room thanks to their enchanting scents. When producing their care and fragrance products, the French brand, situated in St. Barthélemy, puts its faith exclusively in natural ingredients. Whilst the care products do indeed make up the largest portion of the Ligne St Barth range, the scented candles are a welcome addition that works almost like a perfume for your home. The chic candles looks similar to normal, large candles but a few minutes after being lit unleash their full fragrance notes which will weave evenly throughout the room for a beneficial effect.
Deco and practical pollinator at the same time
The biggest advantage of the Ligne St Barth Scented Candles is most definitely their two-fold use: on the one hand, the accessories look very elegant and stylish, whilst on the other they also cover up unpleasant odours and instead ensure a pleasant atmosphere. The wick and burning time allow the intensity of the fragrance to be very easily regulated. A short burning time of around 10 minutes can fill a small room, whilst burning the candle for longer will spread the fragrance nuances around even large areas. The scent of the Candle certainly doesn't have to hide from perfume. Various fragrance substances work with each other hear to create a rounded and pleasantly hearty fragrance.
Trendy accessories for your home
What perfume is to your skin, this Scented Candle is to your home. The most popular place for the Scented Candles is definitely the living room, where most of your time is spent. Placed on a table, a Ligne St Barth Candle creates a romantic and cosy atmosphere, whilst the gentle scents slowly fill the room. In summer, the Candles can also be placed on a terrace or balcony. This allows a mild summer night to be enjoyed by your nose too with heavenly scents.
Scented candles by Ligne St Barth