Les Alizés Women's fragrances by Ligne St Barth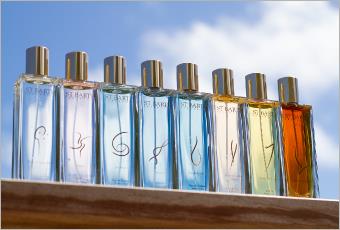 The Les Alizés range from Ligne St Barth is named for the women's fragrance of the same name. The brand, which has its roots in the French Caribbean, is known for its very imaginative, open and delicate women's fragrance which wrap their wearer up like an invisible mist and have a captivating effect all year round. The Les Alizés perfume is no exception. The fragrance comes in the form of an Eau de Toilette and is contained in an elongated, azure blue flaçon that is rounded off with a golden cap and gold lettering for the perfect finish. The flaçon contains a total of 50ml of the purest fragrance essences.
Heavenly women's fragrance with French notes
When designing the fragrance, Ligne St Barth puts its faith in a minimalistic selection of ingredients which can play on their strengths in this delicate mixture and develop their own wonderful effects. Rosewood is one of these captivating essences which comes to the fore predominantly in the core notes. The pleasantly gentle and very warm acting wood gives this fragrance a lightly floral effect that is still pleasantly gentle hours later. The perfume is rounded off with musk and amber, both of which can be found predominantly in the base, where they ensure a loving and warm core during the prelude and the climax of the fragrance.
Perfect for any occasion
The Les Alizés creation from Ligne St Barth is excellent for any season thanks to its minimalistic mixture. Despite the captivating essence of rosewood, the fragrance comes across as very versatile and interesting, meaning it fits perfectly into the range of existing women's fragrances. The perfume can be used all year round, and will suit both your office or your home life guaranteed. In the evening, at a chic dinner for example, its wearer can benefit from the very loving notes.
Les Alizés by Ligne St Barth