Nina Ricci perfume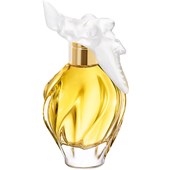 Nina RicciL'Air du Temps Eau de Parfum Spray
€ 49.79
/ 30 ml
BP: € 1,659.67* / 1 l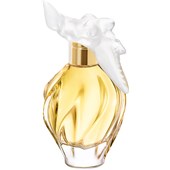 Nina RicciL'Air du Temps Eau de Toilette Spray
€ 43.70
/ 30 ml
BP: € 1,456.67* / 1 l
4,5/5 AggregateRating
Elegant perfumes from a brand steeped in history: NINA RICCI
Robert Ricci established the NINA RICCI brand in 1932 as a gift for his mother. Nina was a fashion designer, and she went on to build a flourishing business specialising in expensive haute couture pieces in Paris with her son. The label has always stood for bold and optimistic femininity. Characterised by effortless elegance and outstanding simplicity, Nina Ricci fashions encouraged women to express themselves freely and confidently reveal their desires.
The first fragrance, Coeur de Joie, was launched by Robert Ricci in 1946. It was just as luxurious, feminine and elegant as his mother's designs. Two years later it was followed by the brand's iconic fragrance, L'Air du Temps, which embodies the timelessness of the House of Nina Ricci. Further well-known NINA RICCI fragrances have been launched since then.
Some of the more recent creations include Nina by Nina Ricci, the most popular fragrance among perfumers in 2006 with olfactory essences of orange blossom, raspberry and rosebud adding a modern twist. The Eau de Parfums by NINA RICCI are designed for strong, independent women who are aware of and want to emphasise their beauty.
A timeless classic fragrance by NINA RICCI with a spicy floral scent
In 1948 Robert Ricci composed an ode to love, peace and freedom with L'Air du Temps by Nina Ricci. It was inspired by the pure elation and optimism felt after the war. Generations of women have been captivated by the iconic Eau de Parfum by NINA RICCI, a fragrance that underlines all the different facets of their femininity and encourages optimism with its spicy, floral fragrance. Stylishly encased in an award-winning bottle featuring flowing twists and exquisite curves, with two doves tenderly interlaced on the stopper, this fragrance still exudes pure lightness today.
A coveted fragrance favourite then and now, its sophisticated spring accord, as sumptuous and intense as armfuls of roses is laced with notes of pink carnation and paired with the velvety, sweet balsamic warmth of sandalwood. The luscious bouquet of L'Air de Temps opens with a carnation and gardenia accord laced with nuances of iris, Grasse jasmine and pink centifolia. A warm blend of musk, amber and sandalwood envelops the base in a sensual caress.
Modern iconic fragrance by NINA RICCI with a tangy gourmand nuance
Nina by NINA RICCI is a fragrance inspired by nature. It has the wonderfully fresh and enticing fragrance of candied apples. The citrus, floral Eau de Toilette by NINA RICCI is bursting with joie de vivre, sensuality and a touch of playfulness. The iconic apple-shaped bottle of the Nina perfume has a glossy translucent pink finish adorned with a precious silver cap that is a pleasure to behold.
The citrus, floral scent of Nina opens with a sparkling duo of Calabrian lemon and Caipirinha lime. Velvety gardenia petals paired with toffee apple provide the delicious heart note of the NINA RICCI Eau de Toilette. The final accord combines cedarwood and the light woods of the apple tree with sensuous musk base notes.
90 percent of the ingredients in this life-affirming, good-mood fragrance by Nina Ricci are naturally derived. To manufacture it, NINA RICCI uses a responsibly sourced vanilla infusion and Italian lemon essence from imperfect fruits that are not intended for food sales due to their size or appearance. The tangy gourmand note is the result of the whole fruit, including skin and flesh, being used in the production process, not just the juice.
Shop NINA RICCI – exquisite fragrances for modern women
The NINA RICCI perfumes are a tribute to women. They radiate positivity, joy and optimism. The exclusive fragrance compositions are available as light Eau de Toilettes or more intensive Eau de Parfums. At parfumdreams you can find the matching bodycare products, including shower gel, body lotion and deodorant spray to complete the fragrance experience and indulge your skin.