Sun Sensi Sun care by Payot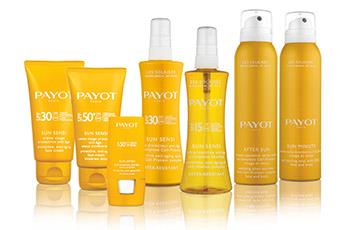 A luminous tan and a radiant complexion lend women's skin a beautiful healthy radiance in summer. To allow women to enjoy the summer sun without regret, the Dr. Payot Laboratories developed the Sun Sensi Sun Protection and Sun Care -Line, which repairs sun-induced skin damage and offers the skin extensive protection. Women with sensitive or very sensitive skin also benefit from the specifically developed cosmetic line with anti-ageing effect and the unique Cell-Protect-Complex.
Wonderful tans from top to toe for all skin types
The active agent complex used in the cosmetic line is manufactured without nano particles. The special formula contains a perfect combination of UVA and UVB filters, which ensure synergetic broadband protection. The optimised sun protection, with factors of SPF 15 to SPF 50, also allows long sunbathing sessions to be enjoyed without damaging the skin. The lotions, gels, sprays and creams in the sun care line are manufactured without alcohol and are dermatologically tested. The skin receives a beguiling fragrance reminiscent of summer and holidays. The Sun Sensi Care Line from the Dr. Payot Laboratories is suitable for normal, sensitive and very sensitive skin.