Haircare of Tangle Teezer
Tangle Teezer is not just one of the hottest brands in the hair care industry; it has also completel…
Learn more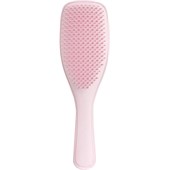 Tangle TeezerThe Wet Detangler Millennial Pink
€ 12.49
/ 1 pcs.
BP: € 12.49* / 1 pcs.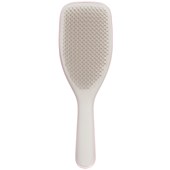 Tangle TeezerThe Wet Detangler Pebble Kiss Pink-Grey
€ 14.99
/ 1 pcs.
BP: € 14.99* / 1 pcs.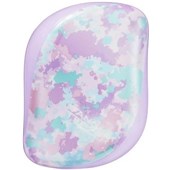 Tangle TeezerCompact Styler Dawn Chameleon
€ 13.32
/ 1 pcs.
BP: € 13.32* / 1 pcs.
4,5/5 AggregateRating
Tangle Teezer Haircare
Tangle Teezer is not just one of the hottest brands in the hair care industry; it has also completely revolutionised the hairbrush. The company was founded by stylist Shaun P., who did not just become a hairdressing and hairstyling great thanks to his invention but also established one of the most successful cosmetics start-ups in recent years. He gained experience as a stylist in salons around the world, where he didn't just set his own hand to the task but also had an advisory role. This is effectively where the modern hairbrush was invented, because as Shaun noticed that ordinary hairbrushes mostly pulled on knots and thus caused great damage to the hair, he began to work on a viable hair care alternative.
Bringing an end to knotting and tousling
His answer to gentle and effective hair care was flexible bristles that can bend far enough so that knots are removed and not painfully "ripped out". He gave the new generation of hairbrushes the memorable name "Tangle Teezer". Meanwhile, the company with its distinctive hairbrushes has become a true milestone. The brush is the best-selling model in England but is now sold internationally too. But the inventor of Tangle Teezer didn't rest on his laurels, however, because since the first model, the brush has been continuously developed - including visually!
The perfect brush for every occasion
Those who like gentle hair care and often battle with tousling and knotting in their hair are recommended to use a Tangle Teezer hairbrush. The brushes come in various designs, look different to each other, and are always friendly, modern, and unbelievably stylish. It is also for this reason that many hairdressers and stylists use this innovative invention, which will only spread further in the coming years. At home, combing and brushing become a gentle, pleasant occasion.