Ouanalao Women's fragrances by Ligne St Barth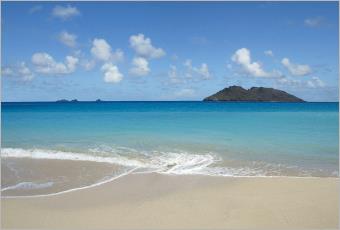 Ouanalao is a quite special creation from Ligne St Barth as the brand is connecting more than just a good sound with this catchy name. Ouanalao was the original native Indian name for St. Barthélemy, the birthplace of the Ligne St Barth brand. The fragrance and care experts have re-interpreted their roots with this perfume, taken influences from their own histories and attempted to add this to a perfume that can trump any other women's fragrance playfully gently. The fragrance with the traditional name comes in an elongated 50ml flaçon which uses the colour nuances of gold (cap) and azure blue (base). On the front side is printed the logo and trademark of Ligne St Barth.
Women's fragrances from the French Caribbean
The "French Caribbean" is the loving nickname of St. Barthélemy which is a key part of the Lesser Antilles, though counts as part of France. The women's fragrance from the heavenly island, which look very similar to this legendary paradise, are very fresh, fruit and of course primarily inspired by the Caribbean. In the top notes, a duo of mandarin and soursop play in the prelude. The first spritzes subsequently have a very fruity and fresh effect and exude a quite unique, magical energy until the fragrance finally reaches its core notes.
The unique scent of Ouanalao
The core notes of the perfume use only one essence, meaning that this in fact comes across more intensely: it's the Caribbean box tree. The fragrance therefore develops a very natural and once again very fresh structure which greets skin and noses heavenly gently. The base notes that slowly come to the fore use a combination of buckeye and guaiacum. This means the Ouanalao creation from Ligne St Barth comes across like a relaxing holiday, a delicate fruit salad, a gentle breeze through your hair, or simple and touching: like the Garden of Eden.
Ouanalao by Ligne St Barth