Patchouli Arawak Women's fragrances by Ligne St Barth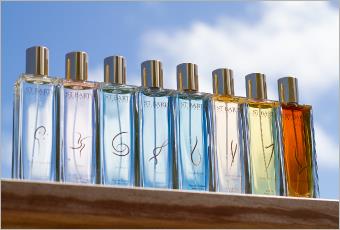 The Ligne St Barth Patchouli Arawak range is a grandiose example of the quality of Ligne St. Barth women's fragrances. The laboratories of the Ligne St Barth brand lie on the island of St. Barthelemy, one of the most beautiful Caribbean islands. All women's fragrances are manufacturer in the laboratories of the family company. This was founded in 1983 by Herve and Birgit Brin. With the knowledge of the great-grandmother on local, native healing traditions, special plant extracts could be obtained to give skin a taut appearance. With the women's fragrances collection, the noteworthy family company, Ligne St Barth, ensures worldwide enthusiasm. The perfume from the Patchouli Arawak range will captivate with its unique scent. The multi-faceted aromas gives rise to an all-round harmonious fragrance.
High-quality perfume for everyday use: the variety opens up untold possibilities
The Patchouli Arawak range is synonymous with high-quality women's fragrances. The perfume will amaze with its unmistakable character and has already been worn by stars such as Jack Nicholson, Don Johnson and Celine Dion. No matter whether in your free time, during sport, or at a festive occasion: with this fragrance from the Patchouli Arawak range, you can benefit from a successful everyday companion who gives its wearer a touch of exclusivity and elegance. Other St Barth ranges will amaze with the effectiveness of roucouyer seed which contains lots of vitamin A and boosts skin's melanin production. Skin cells' own natural protection is increased and skin's appearance is improved. Together with the aromatic perfume from this range, you can equip your bathroom with high-quality products. Let yourself be inspired by a variety that will amaze and enthuse you!
Patchouli Arawak by Ligne St Barth