Miro Perfume
The perfume brand Miro has stood for individual and expressive men's and women's fragrances for the …
Learn more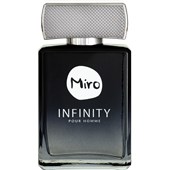 MiroInfinity Pour Homme Eau de Parfum Spray
BP: € 135.47* / 1 l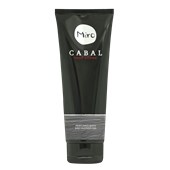 MiroCabal Pour Homme Perfumed Bath & Shower Gel
BP: € 20.20* / 1 l
5/5 AggregateRating
Miro Skin care and
Inspirational men's and women's fragrances by Miro
The perfume brand Miro has stood for individual and expressive men's and women's fragrances for the past 10 years. With products that range from youthful and fresh to elegant, Miro offers a number of inspirational creations that are designed using an exquisite selection of premium ingredients. Exclusive flaçons add a touch of elegance to the products and are ideal gifts for really special occasions.
Classically elegant and emphatically masculine – that is what the
Cabal Homme men's fragrance
is all about, giving men the opportunity to re-discover their personal qualities. The fragrance by Miro is also available from Parfumdreams as an Eau de Toilette Spray in a 100 ml flaçon.
The
Miro Femme Eau de Toilette
is floral and fruity – bergamot, rosewood and ylang-ylang combined with jasmine, violet, musk and vetiver are what characterise this sensual and seductive women's fragrance.
The
Von ganzem Herzen Parfum Spray
by Miro makes your heart beat faster: Its unmistakable fragrance and enchanting heart-shaped flaçon make it the perfect gift for your nearest and dearest.
Miro facial care range
The
Miro Balance Anti-Ageing care range
nourishes and protects your facial skin from harmful environmental effects. Inspiration for these products was derived from nature – indeed, plants manage to develop their own protective mechanisms when subjected to extreme conditions, a feature that has also been adopted in the facial care range by Miro. Furthermore, the products also supply your skin with the maximum possible level of moisture while smoothing and firming it too, ensuring a radiant complexion.
Did you know?
Quality doesn't have to be expensive
Admittedly, it is easy to say that quality doesn't have to be expensive but this is harder to put into practice. But Miro, one of the brands from the house of Maxim, has managed to create fragrances that correspond to this motto exactly. It is barely 20 years since the label's perfumers arrived in the town of Grasse in the South of France. They were there on the lookout for extraordinary fragrances and aromas for Miro perfume, and they found them. This is because Grasse, thanks to its location, is perfect for growing orange blossoms, May roses, and jasmine. The extreme quality of the blossoms from Grasse made the small town a preferred supplier and purveyor to the court for magnificent fragrances.
Millions of women love the fragrances from Miro, although the label does not make any large, expensive advertisements. This means the label can focus on first-class ingredients for the perfumes and extraordinary,
striking flaçons.
However, word of mouth has made Miro perfume a real
insider's tip
. If you aren't familiar with the perfumes yet, then a Miro set is exactly the right thing for you. Each Miro set contains a Miro perfume in a characteristic flaçon as well as a body lotion and a shower gel or deodorant for men.