Techni Liss Skin care by Payot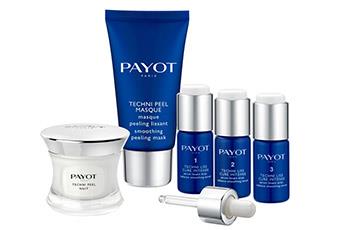 The Institut Payot has developed the Techni Liss Care and Cosmetic Line for the first age-related skin changes, which can already occur in women between the ages of 25 and 30. The free radicals responsible for this ageing process, which cause cell damage and attack skin cells, are prevented by the special formula of the care line. Dryness lines, expression lines and deeper wrinkles are alleviated. The valuable ingredients in the rich day and night cream pad the skin out and restore its youthful appearance.
High-tech anti-ageing care line against the first signs of premature ageing
The unique effect of the Techni Liss Care Line is achieved by a special active agent complex. The advanced combination of powerful active agents, such as hyaluron acid, vitamins C and E, as well as important trace elements, combat wrinkles as soon as they emerge. Extracts of brown algae, Japanese corn and hibiscus visibly improve the skin. The innovative cosmetic and care series from the Institut Payot de Paris was developed for women of all ages and is suitable for all normal skin types.