Sensor System by Revlon Professional
The Revlon Professional Sensor System, developed by the laboratories in the Colomer Group, is a hair…
Learn more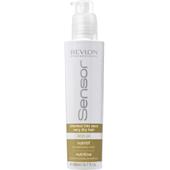 Revlon ProfessionalSensor System Nutritive Shampoo
€ 26.61
/ 750 ml
BP: € 35.48* / 1000 ml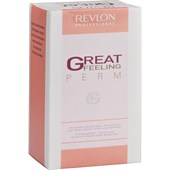 Revlon ProfessionalSensor System Great Feeling Kit
€ 14.38
/ 2 x 100 ml
RRP

€ 28.75

*
/ 2 x 100 ml
BP: € 71.90* / 1000 ml
5/5 AggregateRating
Sensor System Hair care by Revlon Professional
The Revlon Professional Sensor System, developed by the laboratories in the Colomer Group, is a hair care innovation based on pH-acid formulas and computer technology. Thanks to their clever formula, the Sensor Shampoos ensure gentle cleansing and the effective treatment of hair and scalp problems. The cosmetics lend the hair suppleness, bounce and shine. It is easier to style and no longer becomes statically charged as quickly.Nutritive Shampoo is an extra-nourishing hair care product for very dry, damaged hair. The Sensor System Exfoliating Shampoo prevents the new formation of dandruff and treats itching and irritations. The Volumiser Shampoo specifically developed for greasy hair ensures volume, shine and bounce. The Moisturising Shampoo supplies optimal moisture for dry, brittle, permed and/or coloured hair. Conversely, normal hair looks forward to the care supplied by the Vitalising Shampoo in the Revlon Sensor System.
Systematic hair care
Revlon Professional began in 1932 with just one product, a nail polish. If that was very popular, the successor, manufactured using real colour pigments, found great resonance with women due to its wide range of colours. The great reception allowed the company to grow and extend its product spectrum to include professional cosmetic products.Revlon Professional is now one of the market leaders in the cosmetic branch. This label focuses on the production of affordable quality products, which, however, are by no means lacking innovation and glamour. The market-oriented launch of new products helped Revlon not only to keep a loyal customer base, it also enabled the company to win over a completely new generation of consumers.