Cinema by Yves Saint Laurent
A perfume so glamorous and opulent, as if made for a seductive diva-like woman. Men will be at your …
Learn more!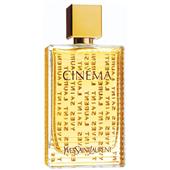 Yves Saint LaurentCinemaEau de Parfum Spray
BP: € 112,17* / 100 ml
Cinema Women's fragrances by Yves Saint Laurent
A perfume so glamorous and opulent, as if made for a seductive diva-like woman. Men will be at your feet when you spray yourself with Cinéma by Yves Saint Laurent...To seduce, she uses weapons that she alone possesses..."Seduction is loving yourself a little in order to be adored by others". She is a star.....FOR HER YVES SAINT LAURENT CREATED: CINÉMA.