Manifesto by Yves Saint Laurent
Manifesto is the call of a woman to break through boundaries. The surprisingly fresh fragrance in th…
Learn more!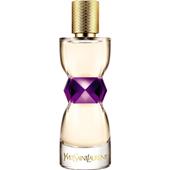 Yves Saint LaurentManifestoEau de Parfum Spray
BP: € 157,90* / 100 ml
Manifesto Women's fragrances by Yves Saint Laurent
Manifesto is the call of a woman to break through boundaries. The surprisingly fresh fragrance in the top note makes the woman act unexpectedly. Royal jasmine blossoms and delicate lilies of the valley allow her to be sensuously feminine. The structure composed of warm sandalwood and noblest vanilla gives her the courage to show her excessive audacity.