Fragrances of Burberry
Founded in 1856 by Thomas Burberry, the Burberry brand of today is led by the principles of British …
Learn more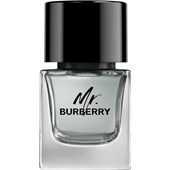 4,5/5 AggregateRating
Burberry Fragrances
Founded in 1856 by Thomas Burberry, the Burberry brand of today is led by the principles of British designs and is synonymous with innovation and masterly craftsmanship. Under the leadership of the chief creative officer and chief executive officer Christopher Bailey, the brand has developed a modern aesthetic, but still remains true to its unique tradition.
Fashion today cannot be imagined without the typical tartan pattern in red, black, caramel and white. It adorns umbrellas, bags and scarves. The 21-year-old Thomas Burberry, the legendary inventor of the gabardine fabric, founded the label under his name, which enjoys worldwide popularity to this day, in 1856. The logo with the knight on horseback, which became popular with its outdoor garments, makes a variety of fashion creations nowadays.
Burberry Cult
This became a big trend from the label in 1997. Everybody desired the typical tartan pattern, so it made its way to the runways of the London Fashion Week and is sought after by aficionados to this day. In 2003, the label brought back a special edition of its famous trench coat. A very commendable gesture of the company: 30% of the turnover flows into help organisations for breast cancer patients.
Women's perfume by Burberry
A women's fragrance series, which did not wait long, after the success level has been reached, and thus,
Brit
was released. An unmistakable fragrance, which unites everything that the haute couture label represents: Luxury and glamour, as well as pure elegance. Sophisticated ingredients, which inspire dreams, can also be found in
London Woman
. An energetic fragrance composition, which transfers sensuality all around itself:
Burberry The Beat
.
Men's fragrances
Men will also have their dreams come true. In this way, our selection offers the right item
Brit for Men
as well as
London for Men
. In order to fully satisfy the demands of ladies, the most coveted fragrance harmony,
Touch for Men
, is also a way to make ladies lose their minds.