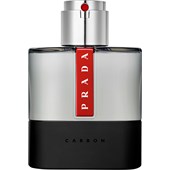 PradaPrada Luna RossaCarbonEau de Toilette Spray
€ 83.00
/ 100 ml
BP: € 830.00* / 1000 ml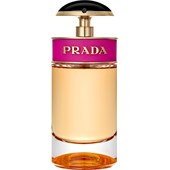 PradaPrada Candy Eau de Parfum Spray
€ 77.95
/ 50 ml
BP: € 1,559.00* / 1000 ml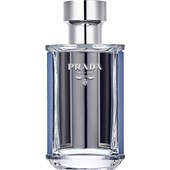 PradaL'Homme PradaL'EauEau de Toilette Spray
€ 84.56
/ 100 ml
BP: € 845.60* / 1000 ml
Fragrances of Prada
The Prada company was founded in 1913 when an exclusive shop for luxury items was opened and today i…
Learn more
Prada Fragrances
The Prada company was founded in 1913 when an exclusive shop for luxury items was opened and today is one of the most well-known and popular high-society brands in the world. Characterised by outstanding quality which melts with modernism, a further reason for the success of the company is its tradition of only offering its clientèle the best of the best. The start of the 80s to the mid-90s was when the brand saw a real boom as other items were brought into the company's product repertoire (under the name Miu Miu, amongst others).
Did you know?
Prada is an internationally renowned and world-famous fashion label that was founded in 1913 in the fashion capital of Italy, Milan. The company had its big breakthrough with collections of shoes and handbags. Today, a wide range of different collections is produced and complemented by alluring fragrances. For a long time, the Italian company was in the hands of the Prada brothers; it was subsequently passed down to the daughter and, later, the granddaughter. The products from the house of Prada are categorised into the premium price segment and are associated with luxury, style, and elegance.
Prada Candy has an alluring scent
Prada Candy is the most well-known perfume from the Italian fashion house. It was originally designed in 2011 by Daniela Andrier and was relaunched in 2013 with some alterations. Prada perfume radiates the same elegance, premium quality, and confident style that earned the company international fame in the 20th century. Of course, you can combine the Prada Candy fragrance with more than just Prada collections. Whether in the office, for everyday, or simply on special occasions, the scent fits harmoniously and coherently into your overall look.
Fragrances with natural power of attraction
A Prada perfume is a very special eye-catcher in every bathroom. The fragrances don't just captivate with their imaginative chords but also with their unique designs. Like the clothing collections, every flaçon features something completely new, surprises you again and again, and thus has a unique power of attraction over both men and women.