Kouros by Yves Saint Laurent
Fresh men's perfume of an impulsive, clear character, with an underlying woody and sensuous structur…
Learn more!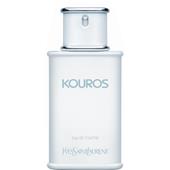 Yves Saint LaurentKourosEau de Toilette Spray
BP: € 117,90* / 100 ml
Kouros Men's fragrances by Yves Saint Laurent
Fresh men's perfume of an impulsive, clear character, with an underlying woody and sensuous structure. Kouros, the epitome of a lively young man who lives his life and enjoys it. An adventurer. As in Greek art, the fragrance by Yves Saint Laurent is a masterpiece. Kouros embodies youthful masculinity, without losing any of its powerful strength in the process. A tingly seduction that makes your skin vibrate and your senses tremble. Fresh and dynamic. The spicy essences symbolise a sensuous warmth that, despite everything, remains impulsive and clear. An extraordinary fragrance.