Fragrances of E. Coudray
The company was founded in 1810 in Paris. By 1822 Edmond Coudray was already delivering his precio…
Learn more!
E. Coudray Fragrances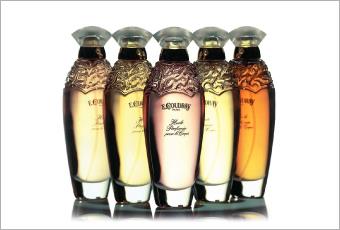 The art of perfume in perfect form – these are the E.Coudray fragrances for women.
The company was founded in 1810 in Paris. By 1822 Edmond Coudray was already delivering his precious perfume creations to all the great royal families of Europe, from France via England through to Russia. In 1837 Coudray achieved the much sought after status of supplier to the English royal family. Until 1908, the company remained family-owned, and was subsequently taken over by Edouard Colmant. The First and Second World War nearly caused the company to sink into oblivion, like so many others, but it proved possible to preserve the original formulations of the perfumes for a new beginning. Every perfume from the E.Coudray perfume house attracts attention even today, thanks to the extravagance for which the rococo period is noted. Decadence, luxury, veritable pomp, these qualities are typical for the E.Coudray women's perfumes. The same is of course true for the creams and delicate soaps, which the company still produces today. Thanks to the traditional formulations from Edmond Coudray, the bath is not reduced to a simple occasion for bodily cleansing, but becomes the opening of a sensual symphony of scent. The Edmond Coudray scents for women are feminine, sensual, and excellently suited to all women who stand by their femininity.