Tommy Hilfiger perfume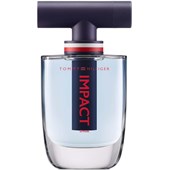 Tommy HilfigerImpactSparkEau de Toilette Spray
€ 62.95
/ 100 ml
BP: € 629.50* / 1000 ml
American spirit in a bottle: Tommy Hilfiger perfume
When he was just 18, Thomas "Tommy" Hilfiger knew that he wanted to create fashion. But until the big success of his fashion label, founded in 1985, it was a hard path, which demanded a great deal of work, dedication and courage. His first own collection was a successful reworking of shirts with button-down collars and chinos. Despite many successful years, the brand has stayed faithful to its original American spirit. It's still there even today in all the Tommy Hilfiger collections – even in Hilfiger perfumes.
Tommy Hilfiger perfume – fragrances that match the fashion
Classic looks in an American style in blue, white and red – this is what Tommy Hilfiger is known for. Hilfiger himself describes his fashion creations as "preppy with a twist". This twist is also regained in Tommy Hilfiger perfumes, because they are never just classically elegant. The fragrances constantly surprise us with notes that stay in the memory.
The fragrance ranges of the fashion label are like the design of the fashion lines. The global brand represents with its perfume the ever-young, refreshing and relaxed style, which has been the signature for everything made by Hilfiger since the first collection. Characteristics that are classically sporty and neatly linear continue to define Tommy Hilfiger perfume for men.
The origins of Tommy Hilfiger perfume
The first perfume by Tommy Hilfiger appeared in 1994 and bears the simple name of Tommy by Tommy Hilfiger – a men's favourite that has been a favourite right up until today. The fragrance is citrusy and fresh with a light woody note. This makes it the perfect partner for the sporty smart fashion by Tommy Hilfiger.
Two years later the first women's fragrance by Tommy Hilfiger appeared: Tommy Girl. This fragrance too makes an impression with its freshness paired with floral notes. In the base note of the Tommy Hilfiger perfume notes of leather are hidden amongst the floral notes – giving this girlish perfume a grown-up twist. This perfume has been a favourite of the fragrance world since 1996 and has become the perfect gift idea for women who love fragrance.
Shop Tommy Hilfiger perfume at parfumdreams
Since his fragrance debut, Tommy Hilfiger has created nearly 100 perfumes for her and him – so it's been a long time since he was known and loved only for his fashion. Find the classics and the latest Hilfiger perfumes at parfumdreams and order them at great prices.